'The Silicon Valley of the East' Is Washington, D.C.
A caravan of Indian entrepreneurs are transforming the D.C. tech scene. This article appears in a National Journal supplement on the challenges ahead for a nation of immigrants.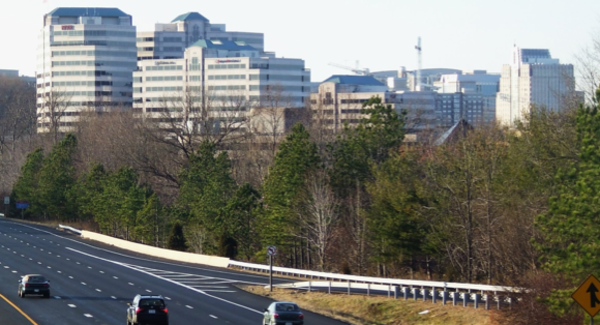 Dulles Toll Road, Fairfax, Va. [Wikipedia]

McLEAN, Va.--"Think of a Match-dot-com for networking events!" Zainab Zaki, an Indian M.B.A. in pearls and a gray pencil skirt, explained with a pitchman's giddiness sitting at her leased office desk. "Entrepreneurs want to meet investors, developers, and mentors. So I'm building an engine that matches people with people, and people with events."
She was delivering her spiel at TeqCorner, a Fairfax County rent-a-space building with a drab brick facade and sleek metal foyer that offers furnished conference rooms and free help for start-up companies. Zaki's journey--from Mumbai, India, to the University of Texas (Austin) to Northern Virginia--might seem exotic.
But in these suburbs of Washington this circuit is familiar. She is one of 40,000 Indian immigrants along the so-called Dulles Corridor between Fairfax and Loudoun counties, which rank as the two richest counties (measured by median household income) in the nation. Since the middle of the last decade, Loudoun's population has grown faster than that of any other U.S. county. And more than 5 percent of its residents were born in India.
This is a classic case of "chain immigration"--the number of foreign-born Indians in the Dulles Corridor has grown ninefold since 1980. But it is also a case of chain entrepreneurship: Many of these immigrants were drawn to Northern Virginia out of a desire to start companies of their own.
To understand the rise of this community of Indian entrepreneurs, you have to understand what drew them. A good place to start is 1983. The company that would become AOL was born one block south of the newly completed Dulles Toll Road. The fledgling AOL came to represent the democratization of the Internet and other technologies made possible--or affordable, at least--by government investment. The toll road carries traffic between the nation's capital and the information-technology consultants who can manage data and help the federal government move from mainframes to personal computers.
Beneath the concrete lies another traffic conduit: fiber-optic lines made for moving information rather than vehicles. Half of all U.S. Internet traffic flows through the Dulles Corridor. Twenty years ago, this was exurbs. Today, it's the Silicon Valley of the East, which has become a magnet for immigrants from India.
If the Dulles Toll Road is the artery that conveys technology to the government, it is social networks--trade organizations, mentors, and networking--that help infuse the entrepreneurial fresh blood.
One such catalyst is Sudhakar Shenoy. The founder and CEO of a high-tech consulting firm and a past chairman of the Northern Virginia Tech Council, Shenoy sees his greatest impact--like many Indian entrepreneurs--as a mentor. He teaches a course he calls "From Geeks to Gazillionaires" at nearby George Mason University that helps aspiring M.B.A.s and engineers polish their business pitches. Students are divided into teams, and the one with the winning business plan receives the semester salaries of Shenoy and his co-teachers as a cash prize. He also cofounded the Washington chapter of the Indus Entrepreneurs, a global network of mostly Indian business owners, investors, and mentors. "When it comes to helping entrepreneurs," he said, "Indians are always there." If Indians are drawn to Northern Virginia for the high-tech opportunities and stay for the excellent public schools, Shenoy explained, they succeed because of the network of support from other Indians.
Perhaps no one embodies this culture of giving back more than Dolly Oberoi, the president-elect of the Indus Entrepreneurs. Her story parallels Shenoy's. Oberoi immigrated to the United States "with 200 bucks and a backpack" to obtain a master's degree, and then landed a job with a Virginia consultancy. She, too, started her own technology firm, C2 Technologies; its annual revenue has grown to $50 million. And nowadays, she embraces mentorship as a second career.
A company that recently benefited from Oberoi's assistance is the McKinley Group, a high-tech consulting firm that Poonam Sharma started in Vienna, Va. Sharma secured her first big contract from the federal government last September, just months after seeking advice from Oberoi--"a classmate of mine from college days in India," she recounted. Now, with enough capital to hire full-time consultants, she looks forward to the day when she is sufficiently established in business to pay forward the mentorship she has received.
"It's our responsibility to mentor and coach the next generation," Oberoi said. "Starting a company in a foreign country is a real uphill climb. Nobody should have to jump through the same hoops that we did."
Fairfax County is home to a quarter of all immigrants in metropolitan Washington and to 40 percent of the area's foreign-born Indians. It's no wonder that on a recent Thursday night at Worldgate Centre, a strip mall one block north of the Dulles Toll Road, almost 20 South Asians--mostly young families or groups of young men--streamed through the glass doors in just a matter of minutes to catch a movie.
KiranTeja Chadalawada was with friends on his way to see the Telugu-language film 100 Percent Love. A 22-year-old immigrant from southern India who is pursuing a master's degree in telecommunications at George Mason, he moved to Fairfax County in 2009 for school because a friend from India recommended it. "A senior from college was studying here and said it was a great [place] to learn and get an internship," Chadalawada said. After racking up a few years of experience in Virginia, he hopes to start a company of his own--but not in Virginia: He and his pals "are looking to go back to India," he said.
Increasingly, the members of the next generation of Indian entrepreneurs are looking to the East. They feel pulled by India's economic vigor and also pushed out by the daunting rules for U.S. visas. Advocates of immigration find it foolish to force smart, ambitious people to leave the United States simply because they were born elsewhere, especially after American taxpayers have invested so much in educating them.
"These guys create jobs," said Michael McVicker, an immigration lawyer whose Reston, Va., office is near the Dulles Toll Road. "They've created jobs for thousands of people, the vast majority of whom are Americans."