The 30-Year Collapse of American Economic Optimism
The three decade decline of economic optimism in American families has perhaps never been clearer than in this graph.
The University of Michigan's Survey of Consumers asks participants by what percent do they expect the family's income to increase during the next 12 months. Over the last 30 years, optimism has plummeted: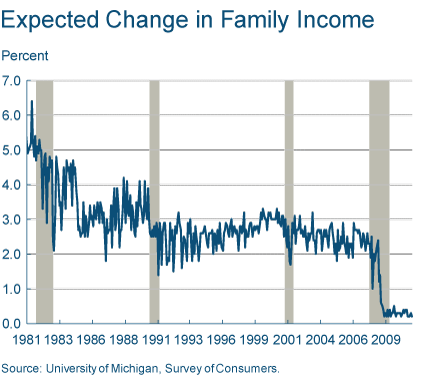 This is a depressing picture, and it carries an important lesson for lawmakers. If workers don't expect wages to rise, and employers aren't paying workers more money, then there is very little indication that we're entering what economists call a price-wage spiral. That's where workers demand higher wages, which raise the cost of production, which requires higher prices, which feeds back into higher wages. Instead, we're seeing a U.S. economy with very little froth getting pelted with higher gas prices, thanks to rising demand and endangered supply in the Middle East.
Read the full story at Cleveland Fed.