Is the 'Green Revolution' Worth It?
In our "Question of the Day" feature for this year's Ideas Special Report, our readers tackle some of the emerging issues that are defining our time.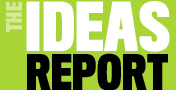 For businesses across U.S., the watchword of the new American economy is sustainability. "Every type of company is jockeying to get the most-stringent green certification for their plants," writes senior editor Megan McArdle on the rise of green technology in the July/August issue. "Windmills are no longer the stuff of quaint Dutch paintings or environmentalist fantasies; they're sprouting on farms, on mountain ridges, even on the ocean. President Obama seems to launch a new energy initiative every week, always promising more green jobs to offset any temporary pain in the pocketbook."
But despite the perceived ubiquity of green technology and sustainability initiatives in American life, the "green revolution" in alternative energy of the last four decades may be a dud:
In 2010, one-tenth of our electricity came from renewable sources. But most of that was hydroelectric power, not wind or solar--and hydroelectric output has actually dropped by almost a third since 1997. That fall has more than offset the rise of wind power, meaning we now generate less electricity from renewables than we did in 1997.




Nuclear generation has risen, making our electricity output slightly less carbon-intensive than back then. But whether it will continue to rise in the wake of Japan's nuclear disaster remains to be seen.




Green technology, especially in automobiles, may get a big boost from higher fossil-fuel prices. That's the good news. The bad news is that those higher prices result from higher demand in the developing world. When we consume less oil, we may not be slowing the rate of fossil-fuel consumption; we may simply be transferring that consumption somewhere else.




Unless we somehow stop burning fossil fuels, all the carbon currently under the Earth's surface will end up in the atmosphere in the next few hundred years. And as the physicist Robert B. Laughlin recently pointed out in The American Scholar, from the Earth's point of view, a few hundred years is less than the blink of an eye. Even if we burn fossil fuels at a slower pace, temperatures will still rise, the oceans will still acidify, human lives will be much altered.
Question of the Day: Do you agree that the clean-energy revolution is a failure? And either way, is it still worth pursuing?