It's vacation season for millions of American families. But the U.S. economy is wasting our summers (not to mention our national landmarks) if we don't start attracting more foreign tourists.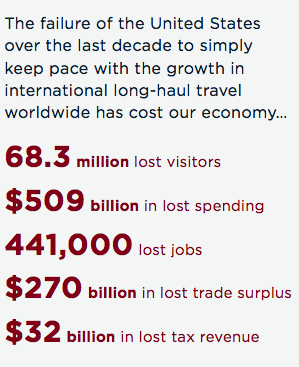 In February, 2010, the United States declared a lost decade. Not in jobs, or homes, or high tech, but in tourism. Europe and Asia had come off a banner decade in foreign visits, with international travelers up more than 30 percent. But here was one global economic boom the U.S. missed.
Between 2000 and 2009, global long-distance travel grew by 46 million more travelers, but America actually lost 2.4 million visitors. That shortfall cost the U.S. 440,000 jobs and half a trillion dollars in travel spending from foreign families and firms, the U.S. Travel Association reported.
Today, with unemployment at 9 percent and job creation at barely a third the pace we need to keep up with population growth, Congress is deadlocked over strategies to create jobs. But travel promotion moves beyond the question of stimulus versus spending cuts. For an infinitesimally tiny fraction of our budget, we could invest in a new travel promotion strategy to compel foreign families to visit for a long weekend and leave a thousand dollars behind in the U.S. economy.

___

THE MOST POPULAR U.S. TOURISM DESTINATIONS
Source: Forbes Travel

___

TOURISM IS AN EXPORT
An export is foreign money in exchange for a domestic good or service. When Caterpillar sells China a machine, it's an export. When Bain consulting takes on an Indian client, it's an export. Tourism is an export too, even if it doesn't feel like one. A family enters the U.S., uses our services, buys our goods, and spends an average of $4,000 a trip.
But since 9/11, tourism has waned. There are three plausible explanations. First, intrusive security policies are scaring away families. Second, foreign countries -- especially in Europe -- have upped their travel promotion game. Third, the United States hasn't. Today, the countries in the European Union spend nearly a billion dollars on tourism promotion. The U.S. government doesn't have a federal tourism promotion policy.
The impact of the tourism deficit is deep, and the story can be told in three graphs. First, consider the raw numbers. International arrivals to the US fell dramatically in the years after 2000 even as the dollar fell and international tourism added almost 50 million more customers.
But even that image fails to capture the shortfall in foreign visits. The U.S. Travel Association estimated the number of tourists the U.S. would have if we kept pace with the rest of the world in the 2000s. This second graph illustrates that missed opportunity. 
Finally, the McKinsey Global Institute used our tourism shortfall to estimate the potential jobs lost by sector. The third graph pulls out that estimate:
GIVE US YOUR MONEY!
The U.S. isn't doing enough to attract the world's emerging middle glass, says the McKinsey Global Institute. Although a weak dollar should lure tourists from China, Indian and Brazil, MGI finds that more Chinese tourists visit France than the United States. How do we convince foreign travelers to give us more of their money? Here are three big ideas from MGI:
1. Increase Promotional Spending. The European Union spends about $800 million on travel promotion. The United States should adopt a similar national travel promotion strategy.
2. Make New Visa Rules. In the R&R business, it's our visa policy that could use some real relaxation. We should find a way to make the visa approval process "steamlined and predictable" and simplify immigration rules to attract more foreign students and make it easier for immigrant graduates to stay, spend money, and ultimately (we hope) create jobs.
3. Find Productivity Gains. "Hospitality industry leaders believe they could streamline operations in cities such as New York and San Francisco but say they are constrained by unions and local regulations," MGI reports.
The bottom line is that if the U.S. had maintained its share in global tourism throughout the 2000s, we would have attracted 67 million more tourists and received $214 billion in additional spending, which would have produced 400,000 more jobs across the economy. If Washington is looking to move beyond the stimulus versus austerity debate, tourism would be a smart place to begin.

We want to hear what you think about this article. Submit a letter to the editor or write to letters@theatlantic.com.