Does Washington Care About the Economy Anymore?
With the Dow plunging 300 points Wednesday afternoon, manufacturing hitting the skids, and job creation in jeopardy, it's worth remembering what a weird year it's been.

Five months ago, you could have said about the economy (minus housing), Nothing is deteriorating, everything is getting better -- slowly. The numbers agreed. Every major economic signal was improving.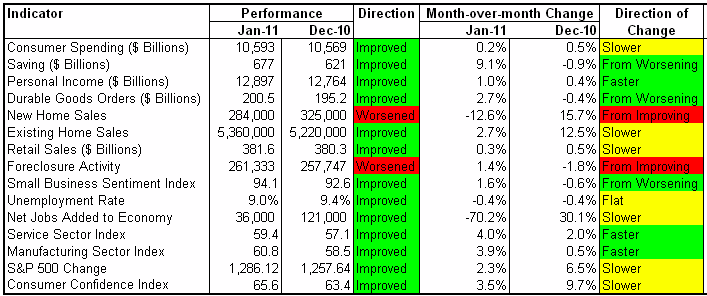 When my colleague Dan Indiviglio, who compiles these graphs every month, looked at the latest figures, the yellow and red crept in. Consumer confidence in May (not included in the chart below) is at a six month low. Suddenly, almost nothing is improving, and everything is slowing down.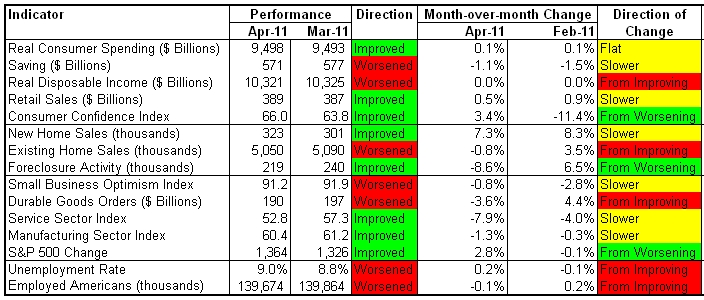 The economy has been weak before. But this time is different. In 2009, we got the stimulus and quantitative easing. In 2010, we got a big tax cut. In 2011, we get ... nothing. The stimulus has wound down, the Federal Reserve bows out next month, and gas prices have all but offset the tax breaks.

Economic growth has found another wall to hit, but the reaction on Capitol Hill is almost dada in its abstractness. Republicans are debating whether or not the fastest route to growth leads through a debt default. Moderate Democrats like Ben Nelson agree that Congress' first step must be to cut spending to domestic programs. Tens of millions of families underwater or out of work must be asking themselves: Does the government care about us anymore? The plans coming out of Washington are like answers to a totally separate question.