Do Something, Anything to Save the Recovery
The May jobs report showed neither party's economic plan is working. Democrats and Republicans must start over to get America going. Here's where they can start.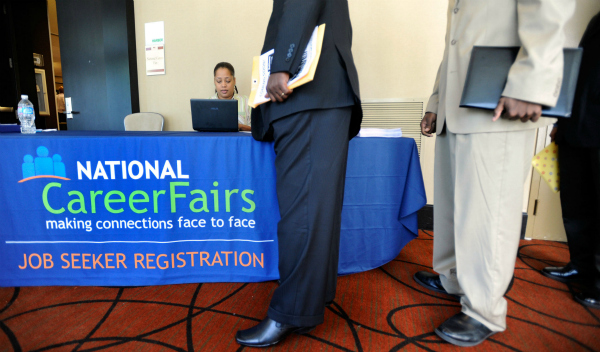 AP
The most important thing we learned from Friday's massively disappointing jobs report is that neither party's economic plan is working - at least not well enough to paddle America through its choppiest recovery since the Great Depression.
It's time for both sides to re-evaluate their rhetoric and cut a deal, quickly, to accelerate job growth.
President Obama's economic team has said for months that the economy has entered a "Phase 2" recovery, where the threat of a double-dip recession almost vanishes, thanks to a package of policy initiatives including last year's bipartisan tax-cut deal. Congressional Republicans have long promised that cutting federal spending, as lawmakers did in April to avert a government shutdown, will unleash job creation.
Neither of those positions looks particularly strong in light of Friday's report that private payrolls added 83,000 jobs in May, and government payrolls shrank by 29,000, for a paltry net gain of 54,000. That's less than a third as many jobs as forecasters predicted on average, even accounting for the downward revisions that followed a string of below-par economic indicators released over the last week.
Most Wall Street analysts read the disappointing May numbers as a sign of a temporary rough patch in the recovery, albeit a particularly nasty one. "Overall, this is horrible," Ian Shepherdson, chief U.S. economist for High Frequency Economics, wrote Friday morning, "and if we thought it would continue for much more than another month or two we would be seriously worried. But we think it is largely a reaction - an overreaction we would say - to the rise in oil prices, and a very real hit to autos and tech from the Japan earthquake."
Still, it is clear markets and job creators are losing confidence fast, and a serious agreement from Washington would go a long way to set them at ease.
It's not hard to find credible outlines of what such an agreement would look like. In one form or another, the best ideas combine an immediate jolt for growth with concrete steps to tame the nation's most troublesome medium- and long-run economic ill: budget deficits that are projected to balloon past 100 percent of gross domestic product.
One possibility would be to link a long-run deficit-reduction plan, perhaps modeled on the Simpson-Bowles commission's proposal that heavily curbs entitlement spending, with several hundred billion dollars in immediate infrastructure spending - building roads, modernizing the electric power grid, shoring up crumbling bridges. Both sides of that ledger have drawn bipartisan support in the past, and Congressional Budget Office director Douglas Elmendorf has advocated a similar plan before Congress.
Jared Bernstein, an economist who just left the White House for the Center on Budget and Policy Priorities, floated a related idea in an email this morning. He suggested it was time to seriously consider the plan from another bipartisan deficit commission, Dominici-Rivlin. That idea would suspend employer and employee payroll taxes for a year - an estimated $650 billion boost to spending power - in concert with long-term entitlement reform and other deficit reduction.
"It's of significant magnitude, the first name of the commission that proposed it is 'bipartisan,' it cuts labor costs to employers and boosts paychecks of workers, who will spend the money, generating useful second round effects," Bernstein said.
A more conservative version of the idea, favored by American Enterprise Institute Economist Kevin Hassett, would pair an immediate cut in corporate tax rates with broader deficit reduction.
"Rather than fix our nation's problems, Obama has focused on near term adrenaline shots," Hassett wrote in an email. "The adrenaline is wearing off, and our fiscal policies are still broken. .. We don't need something temporary, targeted and timely, we need something broad and permanent and timely."
Most importantly, we need something. The soft patch may be short-lived, especially with gas prices headed down for three weeks in a row, but the fundamental problems in the economy persist. The long-term outlook is too debt-laden. The short-term recovery still needs strength. Now would be a great time for lawmakers to show some strength of their own, and address both.