Consumer Inflation Slowed in May as Energy Prices Eased
Prices rose by 0.2% last month, which was the smallest increase since November

Americans are finally getting some relief at the pump, according to the latest report on consumer prices. Energy prices fell in May. Their decline helped push inflation down to 0.2%, its lowest rate in six months. Should we find this news encouraging -- can we expected lower inflation going forward?
Let's start with the chart for the Consumer Price Index, calculated by the Bureau of Labor Statistics: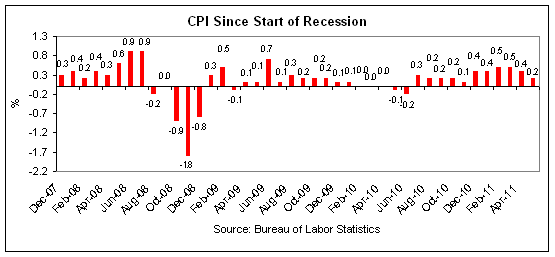 From this chart, it's pretty clear that overall prices were tamer in May than they had been over the prior several months. That 0.2% rise is more in-line with what we saw throughout 2009 and 2010, when inflation was relatively low.
As mentioned, energy prices helped to push down inflation last month. They fell by 1.0%. Gasoline, in particular, dropped 2.0%. That compares to gas prices rising by an average of 4.8% in each of the five months prior.
Consumers didn't likely enjoy much benefit from May's decline, however. It wasn't until the second half of the month that gas prices began to fall. In fact, if you average the national weekly prices points according to the Department of Energy, gasoline was 2.8% more expensive in May than in April. So any relief from gas prices will be felt more in June.
Food prices, on the other hand, continued to rise. They were up 0.4%. That's part of the reason why overall CPI growth wasn't lower due to the decline in energy prices.

As it turns out, price inflation of goods and services outside of food and energy was a little higher than we have been generally seeing. Core inflation increased by 0.3% -- more than the 0.2% uptick in broader prices. Here's the chart for core: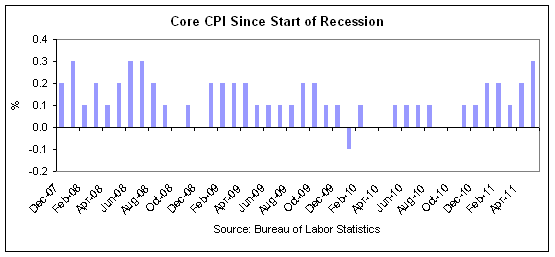 In fact, May's 0.3% increase was the largest in nearly three years, since July 2008. Although there isn't a huge difference between a 0.3% increase and a 0.2% increase, if core inflation continues to rise, then economists may begin to worry that higher commodity prices began to push up the prices of other goods and services. That wouldn't be good.
Analysts didn't see higher core inflation coming, and appear to have expected a bigger decline for energy prices or a smaller increase in food prices. They predicted that CPI would be flat in May (vs the 0.2% increase) and that core CPI would rise by 0.2% (vs the 0.3% increase). So while Wall Street will likely be happy to see inflation slowing, it probably won't be particularly impressed with this report, since it failed to meet expectations.
It's important to remember that this is just one report. Although it indicates that the trend of higher inflation and rapidly rising energy prices could be over, we'll need a few more months of data to be sure. Of course, it's certainly good to see gas prices edging down. They created a major headwind for the recovery, as consumers pulled back spending. If gas prices continue to decline, then the U.S. economy will more easily get back on track.
Image Credit: REUTERS/Lucas Jackson