Consumer Confidence Falls Again in June
Even though gas prices relaxed, Americans are still worried about the path of the U.S. economy

Summer weather didn't do anything to restore Americans' optimism about the U.S. economy. Consumer confidence dipped in June, according to the Conference Board. Its Consumer Confidence Index fell for the second month straight by 3.2 points to 58.5. Despite gas prices relaxing a tad in June, Americans still feel worse about the economy.
Here's the historical chart, since the start of the recession: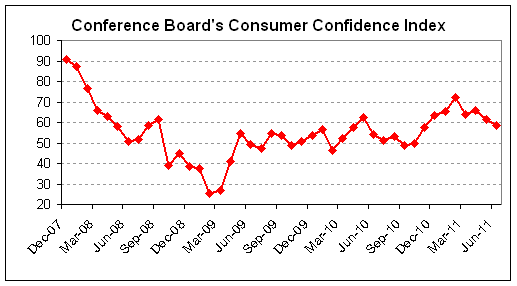 Remember how great confidence was in February? Suddenly, that seems like a very long time ago. Since that time, the index has fallen 13.5 points. In June, it neared its November level. That was the first month marking the index's recovery after its summer 2010 doldrums. Still, as bad as June's confidence value looks, there was only one month when the index was higher prior to December 2010 going back two years.
Here's how the smoothed version of that chart looks, taking a trailing three-month average: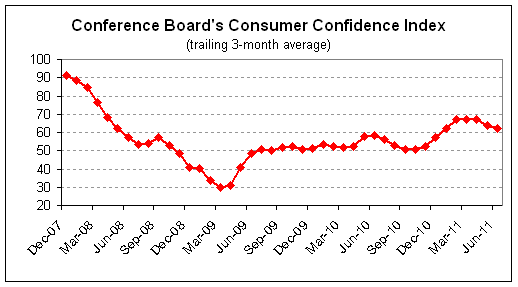 This helps to show the trend better. Obviously, this isn't the direction confidence should be headed in a recovery.
Both of the Conference Board's other sentiment indices fell in June as well. Its Present Situation index worsened to 37.6 from 39.3. Its Expectations Index also declined, dropping to 72.4 from 76.7 in May.
According to the Conference Board, inflation wasn't as big a concern for consumers this month as some other factors. The weak job growth worries Americans. They also fear that their wages will stagnate. These concerns may have translated into less spending during the month.
And that's potentially a big problem. On Monday, we saw that real consumer spending had declined for two months straight through May. If it declined again in June -- and there's a good chance that it did, considering that confidence fell again -- then we might see consumer spending drop for the second quarter.
That could be very detrimental to GDP growth. If spending had been flat in the first quarter -- not lower, just flat -- then with all other contributions left equal, growth would have been a truly anemic 0.4%. If you want to see consumers really begin to worry, then see what happens if a growth rate well below 1% is reported for the second quarter.
Image Credit: REUTERS/Brian Snyder