Charts: What America's CFOs Fear the Most
The nation's top financial executives aren't so different from you and me. Above all, we worry about gas prices, health care premiums, and earnings. So do they.
When the Bank of America CFO Outlook series asked chief financial officers to name their biggest fears, they picked three factors familiar to the average household: energy costs, health costs, and revenue.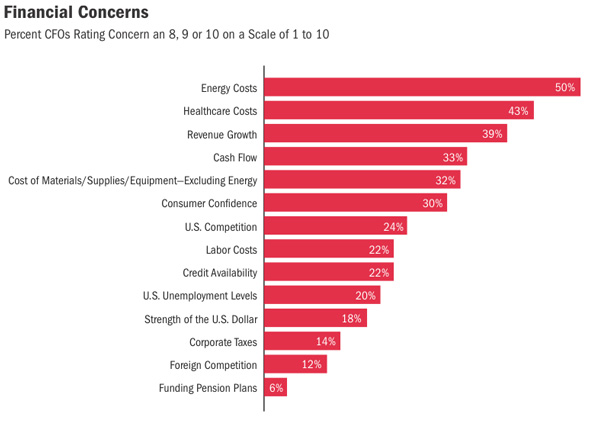 Seven out of ten CFOs in the survey said the new round of stimulus unleashed by the Federal Reserve in the past six months (dubbed QE2) improved the U.S. economy. But with food, energy and transportation costs rising, a plurality of respondents are begging the Fed to reverse their position in order to strengthen the dollar.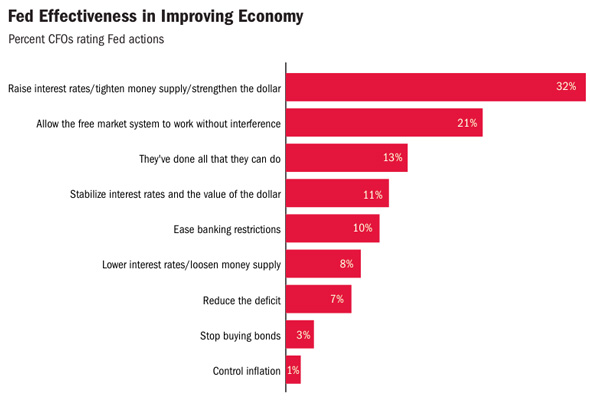 This is a lot of horizontal red action, so let me offer what I consider the top takeaway from this snapshot of corporate sentiment. The U.S. economy is in a tough trap where economic growth in the developing world is pushing up prices for scarce commodities like food and gas. If the Federal Reserve continues its monetary easing policies, CFOs worry, the stock market will get stronger but the dollar will get weaker. A weak dollar is good for exporters, but it makes these same scarce commodities feel more expensive. So corporations are asking for the Federal Reserve to reverse its holdings, tighten the money supply, and protect the value of the dollar.
This is a reasonable reaction. High energy costs make business expensive. Businesses want business to be cheaper. That's not crazy. But it might be shortsighted. A stronger dollar will hurt exporters at the very moment we need manufacturing to keep selling overseas, and higher interest rates will trickle down from Treasury to home buyers and exacerbate an decrepit housing industry.
Upshot: In many ways, the economy is in a much better position than we were one year ago. But the developing world's inflationary comeback is adding a new wrinkle for companies and policy makers.
Read the full report on Bank of America's
website
, via
Business Insider
.