Chart of the Day: The Uneven Home Price Collapse
Earlier this week, Americans' began worrying a little more seriously about home prices. One of the most trusted market indicators, S&P/Case-Shiller, reported a new recession low for its National Home Price Index in the first quarter. The index was down 4.2% during the period. Although a double dip had already been reported by other sources, S&P/Case-Shiller made this result a little more real. But prices are off in some regions more than others.
Here's a chart showing the index for 10 selected major cities, based on data through March. In 2000, all of these cities started their index at 100, which means that if it rose to 150, prices increased by 50%.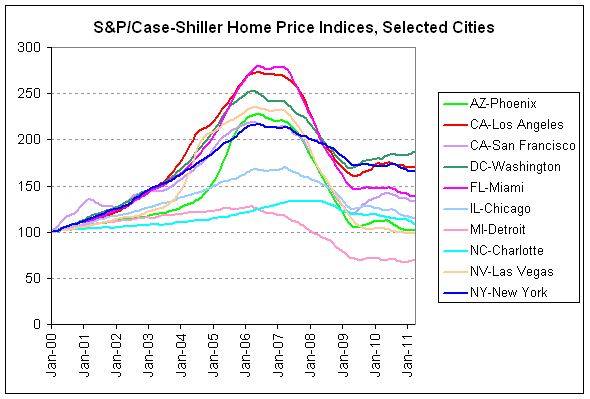 A few weeks ago, I charted the uneven employment recovery among states. As you can see, home price changes are also varying somewhat significantly from region-to-region.
There are a couple of observations to make here. First, Detroit is the only one on this list where prices are significantly lower now than in 2000. They're down an incredible 31.2%. In Las Vegas and Phoenix, prices are near their 2000 levels.
Charlotte has had a pretty interesting path. Its prices only peaked 33.9% above their 2000 level. Since hitting that point, they have declined 18.9%. That's actually the smallest decline from a peak for any city shown on this chart. With that said, however, it had a pretty tough March, with prices down 2.7% -- the most of any city shown.
The most volatile markets shown are probably those you would expect. Las Vegas' home prices were up 135.8% at the height of the bubble and have fallen 58.3% since. Los Angeles peaked at 173.1% above its 2000 level, only to fall 37.5% since. Miami and Phoenix also had mega-booms, up 180.1% and 128.2%, respectively. They also had huge collapses, however, falling from there 50.4% and 55.2%, respectively.
But not all housing markets have fared so badly. The standout on this chart is Washington, DC. Its prices remain the highest compared to their 2000 level, up 87.0% and rising. While home prices declined 4.2% nationally in the first quarter, in DC they rose by 2.0%.
In some areas, like Washington, home prices might not decline much more. But in others, it's pretty clear that they've got quite a bit of room to fall before approaching reasonable levels, compared to their 2000 prices. Different housing markets will follow varying paths as they march to the bottom and eventually being to slowly climb out of their trough.