Chart of the Day: The Decline of the Dollar
Those who fear that excessive debt and inflationary monetary policy in the U.S. are ruining the dollar have been provided a clear talking point by UBS. One question on its periodic management survey asks respondents what the most important global reserve currency will be over the next 25 years. The dollar took quite a dive this year.
Tracy Alloway at FT's Alphaville pinches this gem from UBS's survey: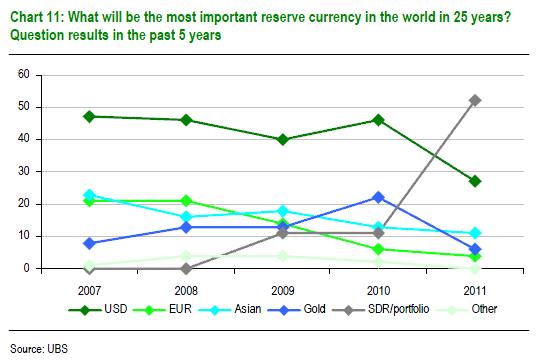 Suddenly SDRs are out ahead of the dollar. The "special drawing right" is an international reserve asset created by the International Monetary Fund a couple of decades ago. They're made up of a basket of four currencies, including the euro, the Japanese yen, the pound sterling, and the U.S. dollar. From the IMF website:
The SDR is neither a currency, nor a claim on the IMF. Rather, it is a potential claim on the freely usable currencies of IMF members. Holders of SDRs can obtain these currencies in exchange for their SDRs in two ways: first, through the arrangement of voluntary exchanges between members; and second, by the IMF designating members with strong external positions to purchase SDRs from members with weak external positions.
So in a sense, the dollar's importance isn't going away entirely, since it's still a part of the SDR's basket. But it is being watered down.
One thing is clear, however. The international community isn't as interested in dollars as it once was. And in the past year, we've seen a pretty dramatic shift. In 2010, just over 10% of management surveyed preferred SDRs for reserve assets. In a year, that has ballooned to more than half of respondents.