Auto Sales Fall in May on Souring Economy
The silver lining: the "Big Three" are back on top

It looks like rising gasoline prices and other concerns about the direction of the economy have finally cut into U.S. auto sales. For the seven largest automakers, GM, Ford, Toyota, Nissan, Chrysler, Honda, and Hyundai, sales fell 8% in May compared to the same month a year earlier. But not all auto companies' sales suffered.
Let's start with the year-over-year results: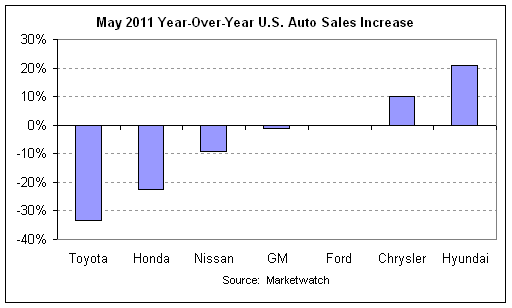 You could just about draw a diagonal line across these auto companies' results. On the weak end, you've got the Japanese automakers. They experienced some shortages stemming from the recent earthquake. Toyota, in particular experienced a very weak May. Towards the middle of the chart, we have the American automakers. GM's and Ford's sales were virtually flat, while Chrysler scored the biggest annual gain of the group. At the high end comes Hyundai, which scored its best May ever as sales rose 21%.
The picture comparing May to April, however, looks quite a bit different: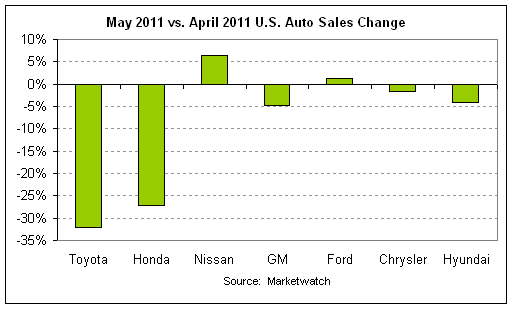 Toyota and Honda still had a tough time by this measure, but suddenly Nissan's performance doesn't look as bad. Of course, that could be due in large part to its relatively weak April. The other automakers all saw small increases or declines in sales from April to May. Overall, sales for this universe of seven auto companies saw sales decline by 10% over the period.
As for market share, here's how it changed year-over-year among these seven automakers: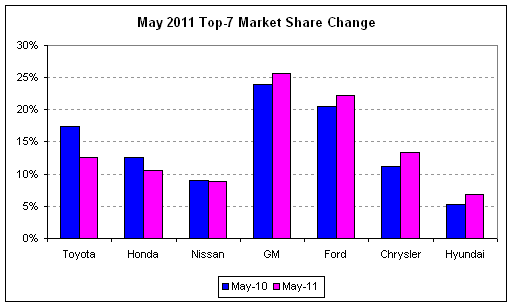 Check out the dramatic 5% drop for Toyota. Honda also lost 2%. On the other side of the equation, Chrysler gained 2%. Ford, GM, and Hyundai all gained just under 2%. Here's the pie chart for how these changes made the market look in May: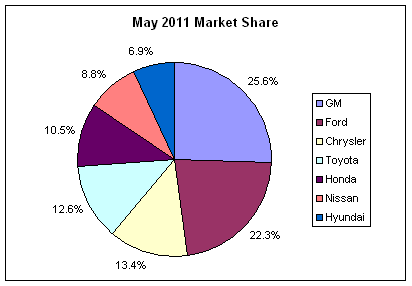 The "Big Three" were back in May, as Toyota fell behind Chrysler. GM actually accounted for more than one-quarter of U.S. sales among these seven companies during the month. The three American automakers made up an impressive 61% of the market.
Still, May's sales warranted little celebration. How bad were they? To put the year-over-year decline into perspective, it was the first since August 2010 -- and that drop was likely due in large part to cash-for-clunkers magnifying sales in August 2009. May marked the end of an eight month run of rising auto sales.

Revenues, however, probably didn't decline by as much as sales. Truecar.com, a car pricing tracker, notes that transaction prices in May were the highest since January 2002, while incentives were the lowest since late 2002. So rising vehicle prices might have been working against weakening demand to pull down the sames figures.

There wasn't likely any one economic factor that led to the decline in sales. Gas prices almost certainly had an impact. If Americans have less money in their pockets due to paying for more expensive gas, then they aren't as likely to make a big purchase like a car. But the economy more generally began to weaken in April, the consequences of which were felt in May. Early indications are that employment didn't rise much last month, which means fewer Americans had new salaries to use towards purchasing a new vehicle.
Auto sales tend to be one of the first pieces of economic data we learn about a month. Expect to see other similarly disappointing reports follow as other indicators for May roll in.
Sources: (Toyota, Honda, Nissan, GM, Ford, Chrysler, Hyundai)

Image Credit: REUTERS/Joshua Lott