After the Crash, What's Next for Bitcoin?
[Courtney Knapp]

It's been a wild ride for Bitcoin, the decentralized virtual currency "mined" across the internet.
Over the last few weeks the currency's value rose 30-fold to more than $30 before falling back to $10 and rising again to $20 late last week. But Bitcoin
prices fell to pennies
this weekend following a security breach that allowed as much as $8.75M worth of Bitcoins
(at pre-crash prices)
to be (temporarily?) stolen.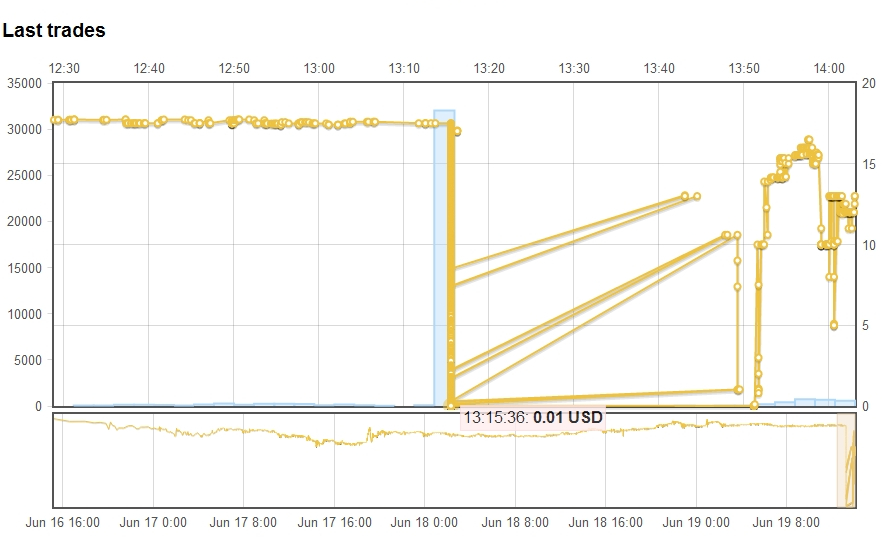 (Source: Tycale Charts)
This follows last week's news that 25,000 Bitcoins were
illegally transferred
from accounts on
the currency's largest exchange
"allinvain's" computer, a heist then valued at nearly $500,000.
Following Sunday's mess, trading has been suspended and Mt.Gox is currently down as is competitor TradeHill (where prices closed at $13). Both sites allowed users to trade Bitcoins to and from U.S. dollars and Mt. Gox accounted for nearly 90 percent of Bitcoin's average daily trading volume.

This spate of bad news and volatility leaves many wondering if this is the beginning of the end for the Bitcoin movement. Dedicated geeks and technologist are working to improve the security surrounding exchanges while encouraging more online merchants to trade in Bitcoins. But encrypted .dat files and randomized algorithms may be too much for a population whose most popular password is
123456
. Can it ever have both sufficient security and mainstream users?