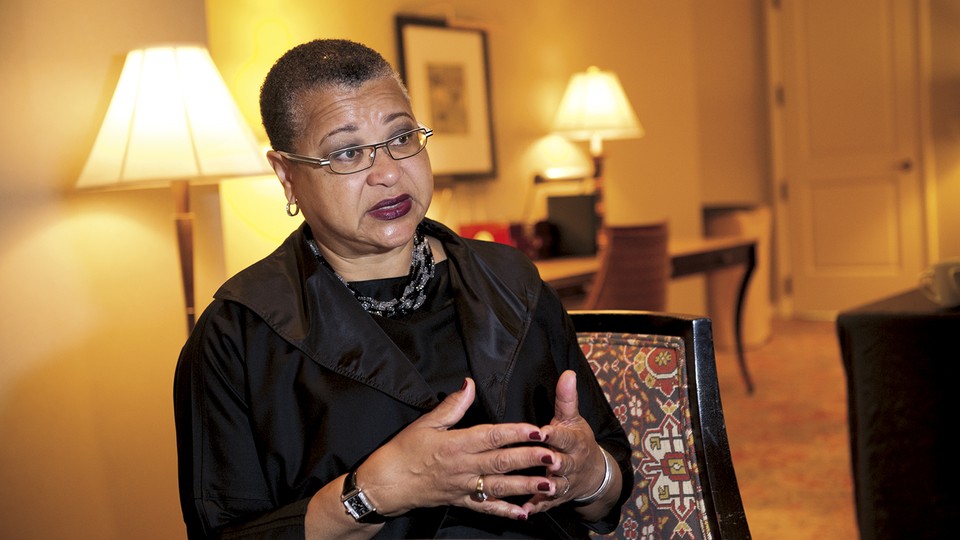 Marie Johns seems born for the Small Business Administration. Her grandfather started a landscaping company that was one of the first black-owned businesses to win a state contract in Indiana. Her uncle ran his own pharmacy. Before running unsuccessfully for mayor of Washington in 2006, Johns became president of Verizon's D.C. branch, the first woman in that job. Now, as deputy administrator at SBA, the 59-year-old Johns meets regularly with entrepreneurs across the country, particularly members of minority groups, and tries to connect them to resources so they can write success stories of their own.
"I'm very optimistic, because I really feel that we're entering a new age of entrepreneurial fervor in the country," she said. "I think the economy is demanding it, and the interest and creativity is out there across underserved communities."
Recently, Johns broke away from a Small Business Week conference in Washington to discuss the changing landscape for minority entrepreneurs across the country and how the federal government can help them in tight budgetary times.
Over the course of your career, in business and government, what has changed in the environment for minority businesspeople?
JOHNS: When I started my career in business, I had very few role models. And so that certainly has changed, in women as well as ethnic diversity. One of the things I have definitely come to learn is that the role of mentors, the role of seeing people who look like you do something, is one of the most helpful motivators [for businesspeople starting out].
How have the barriers that minorities face changed?
JOHNS: There are fewer, but there are still challenges for women and for people of color. This is based on my own experience and the feedback I get from others. Yes, things have gotten better. Yes, we have more work to do. And speaking in my role at the SBA, that's why I'm very focused on how our agency can be more connected to, and ensure we are serving, underserved markets.
How are you helping underserved communities recover from the recession?
JOHNS: One thing that I am working very hard to address is the learning gap. Many small-business owners or entrepreneurs in underserved areas either don't know what the SBA does or don't know the full range of what services we offer. Generally, small businesses in underserved communities aren't looking for millions of dollars in loans, but rather $40,000 working capital or $15,000 to buy a piece of equipment, etc.
What are the other really big things you can help them with?
JOHNS: Access to markets, access to mentors and people who can provide that advice that is so critical. Because if you're a small-business owner, it's a very lonely road. Particularly if you're just starting out.
We still have an enormous gap in this country between the African-American unemployment rate and unemployment overall. What else needs to be done to close it?
JOHNS: We can't attack the issue of getting more African-Americans into the economic mainstream by having siloed approaches. You have to have a more comprehensive approach. Part of my work at the agency, I feel, is trying to do that. That's why I've met with the Department of Labor, because I want to see how we can figure out a way to work more closely — for example, the department is working on a program to get young people into vocational training and apprenticeships.
I want to see us develop a pathway from that to entrepreneurship. You're studying to be a plumber? You should also be thinking about how to put out your shingle.
_____________
The author is economics correspondent for National Journal.