What if Our National Budget Belonged to a Typical Household?
Dave Ramsey outlines what the federal budget situation would look like if it were the household budget of one of his callers.  Answer: very bad.
The gigantic numbers that they throw out there are ridiculous; most Americans have no idea what those numbers mean in practical terms. So, I thought it'd be fun to turn those figures into something we can understand a little better--like a household budget.
he federal government will take in $2.173 trillion in 2011. That's their income, and it sounds pretty good. Until, that is, you factor in that the federal government will spend $3.818 trillion during the year. So, just like many families, the government's outgo exceeds their income--to the tune of $1.645 trillion in overspending. That's called the deficit.
Altogether, the government has $14.2 trillion in debt. What would happen if John Q. Public and his wife called my show with these kinds of numbers? Here's how their financial situation would stack up: If their household income was $55,000 per year, they'd actually be spending $96,500--$41,500 more than they made! That means they're spending 175% of their annual income! So, in 2011 they'd add $41,500 of debt to their current credit card debt of $366,000!
Of course, the interest rate on treasury debt is substantially lower than the interest rate on your MasterCard.  Nonetheless.  Our debt has already risen to uncomfortable levels, and it's getting worse.  Every 10% of GDP we borrow, even at low interest rates, commits us to more interest payments.  To be fair, our net interest payments have actually fallen just slightly since 2008, because interest rates are so low.  But we've borrowed most of that in relatively short term instruments; the average maturity of our debt remains under five years.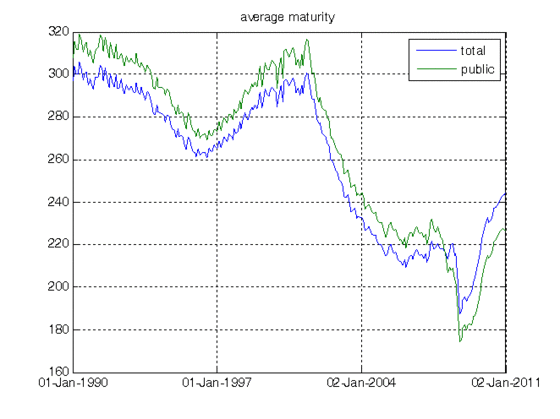 Meanwhile,
debt held by the public
has risen sharply.  It hovered around 36% for most of the Bush administration, but by the end of this fiscal year it will have just about doubled, to 72%. When interest rates return to Bush-era levels, our net interest cost gets ugly pretty fast.
Which is, of course, what happened to many of the households who called into Dave Ramsey: they borrowed money when interest rates were lower, and can't pay it back when their minimum payments or their interest rates rise.  There are limits to any analogy between household and government.  On the other hand, the mathematics of debt don't vary wildly from place to place.