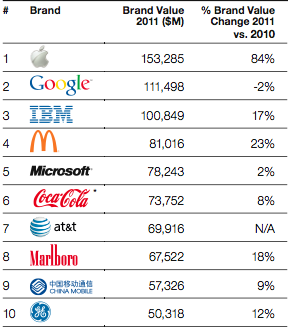 Apple is the world's most valuable brand, according to a new study that measures the share of company earnings driven by brand identity.
The Cupertino company that reinvented the personal computer, transformed the music business and created the world's most popular tablet computer ended Google's four-year reign as the top company in Millward Brown Optimor's BrandZ survey. Louis Vuitton was named the world's most valuable luxury brand for the sixth consecutive year, and online retailer Amazon knocked off Walmart in the retail category as Web clicks beat store bricks for the first time in the study's history. The full top ten list appears in the chart to the right.
In the gallery below, we take a closer look at the fastest growing brands in the world. Led by Facebook and Baidu ("China's google") these are the brands projected to define the next generation in business, in tech, banking, fashion and even pizza.
Executive vice president Nigel Hollis spoke with me about how Millward Brown measured brand values and why brands make such a difference now, at a time of economic weakness in the developed world.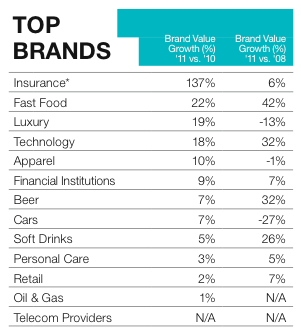 DEREK THOMPSON: What's the most important takeaway from this report?
NIGEL HOLLIS: The rise of technology and telecommunications is pretty amazing. We started with two or three tech brands in the top ten in 2006. Now they're four out of the top five. It points out how central telecom infrastructure has become to people's lives. Millions of people around the world are going straight to the mobile web because they couldn't afford a computer. It's mobile banking in Africa, it's farmers checking on the price of crops in local markets to sell at the right time. It's global.
Why would you want to measure the value of a brand?
Our fundamental assumption is that a high proportion of a company's earnings is due to intangibles. One of the biggest intangibles is your brand. For the top 100 companies, about 30 percent of their total value is bound up in this thing called brand.
How do you measure the portion of company earnings that come from its brand?
To measure brand value, we first look at earnings data. Then we separate the earnings we can attribute to the tangible things -- corporate networks, spending patterns, supply chains, factories -- from intangible things. Take Pampers, for example. Not everybody who buys Pampers does so because they believe in the brand. Many do it for convenience.
Next we turn to international survey data. Each year we survey about 200,000 people in the major countries that account for 85% of the world's GDP. To identify people who are brand loyal, we separate out those are who driven by price and location, so that we're focusing on the proportion of people buying the brand above and beyond convenience. That gives us Brand Contribution. We use that to determine what portion of a company's total earnings are driven by their brand. [See chart below]

Finally, we want to know if the brand will continue to be strong. So we measure the loyalty of your consumers, and where earnings are headed. If you have huge potential in China and India, you're poised for growth. That gives us Brand Momentum.
For what companies do we see this idea of brand matter the most?
For some companies, branding is everything. Coca Cola has massive brand distribution around the world and it's poised for strong growth in the BRICs (short hand for Brazil, Russia, India, and China, the vanguard of emerging markets). But without a brand, it's just this brown fizzy liquid.
A strong brand also reduces business risk, since it's more likely to ride out a negative PR story or a recession. Last year Toyota fell because of recalls. This year it recovered faster than expected because it has very strong brand loyalty.
One of the surprises to me from this report was Baidu, the Chinese search engine, which had the highest possible score in Brand Contribution and was the world's fastest growing brand value after Facebook. Why?
Baidu is the Google of China, and they have done a great job of tailoring their search engine to the Chinese environment. For example, one of the things that Baidu is used for is downloading music. That's not something Google can do legally. But in China, it's fair game. There's massive growth potential for Baidu within that market as more people get Internet access. There is a very small likelihood that a company knocks Baidu off its perch. The real question is whether it tries to move into other markets.
What ended Google's four-year run as the world's most valuable brand?
Basically Google is in a horse race and a faster horse just blew past it. Apple has just had a phenomenonal performance with the iPad and other devices. But Google understands they have to get into new areas like Chrome and Android for phones.
Is a brand more important for some types of companies than others?
Absolutely. Coca Cola is at one part of the spectrum where brand is everything, and GE is at the other end, where products are sold based on technological specifications and bids. Brand contributes about 20% to GE's total earnings, whereas Coca Cola is nearer to 80%.

We want to hear what you think about this article. Submit a letter to the editor or write to letters@theatlantic.com.