The Millionaires Are Growing
Millionaires are everywhere. The U.S. has over 10 million. China has around 1.3 million. Even Malaysia has about 76,000. Although the recent global recession helped to stunt the growth of the millionaires' club, its future looks bright, according to a new report out from the Deloitte Center for Financial Services.
The firm analyzed 25 countries (see below for list), including both developed and emerging markets. In those nations, it estimates around 38.0 million millionaires in 2011. Over the next decade, it predicts that number to swell to 65.5 million, an increase of about 72.5%.
But money makes money. Their collective wealth of this group will increase by even more than its number. It will go from $92.3 trillion in 2011 to $202.0 trillion in 2020, an increase of 119%. Put another way, the wealth that millionaires' club holds in these 25 nations will more than double in about 10 years.
The growth rate won't be the same in all nations, however. The mllionaires' club in emerging markets will grow more quickly than it will in already well-developed markets. This chart shows how the numbers will change in each type of economy, respectively (source: Deloitte analysis and Oxford Economics):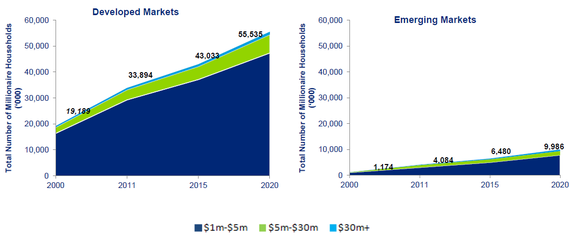 Here's another chart showing how the millionaires' club wealth will change over the next decade in developed vs emerging markets (source: Deloitte analysis and Oxford Economics):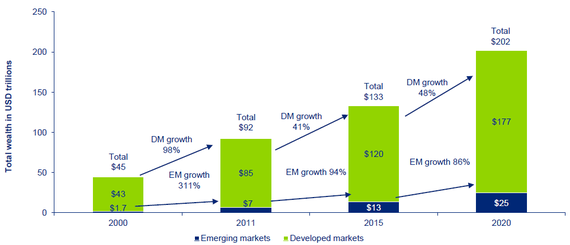 So as you can see, global wealth is rebalancing to some extent, as the emerging markets will grow at a more rapid pace than established nations. Yet Deloitte also concludes that the U.S. and Europe will remain the global centers of millionaire wealth over the next decade. In fact, according to the report the U.S.'s global share of millionaire wealth will actually rise over the next decade from 42% to 43%.
Note: The countries the Deloitte study considered include - Australia, Japan, Spain, Brazil, Malaysia, Sweden, Canada, Mexico, Switzerland, China, Netherlands, Taiwan, France, Norway, Turkey, Germany, Poland, United Kingdom, Hong Kong, Russia, United States, India, Singapore, Italy, South Korea