The Fastest Growing Industry in the Country? It's Digital Voice
Digital voice will be the fastest growing U.S. industry in the next five years, according to a new report from IBISWorld. Voice over Internet protocol (VoIP for short) leads the list of the ten most dynamic industries, which also includes green energy sectors like wind and solar power, and Web ventures in e-commerce and publishing.
A few introductory notes on the full list below. Wind and solar power are such small markets that even a tiny nominal increase in those industries' revenue will look like high-percentage growth. The five companies with markets greater than $30 billion on this list are VoIP, E-Commerce, Biotech, Video Games, Correctional Facilities (esp. state governments offloading costs of imprisonment to private facilities), and Internet Publishing. "Forecast growth" projects average yearly growth for each year between 2010 and 2016.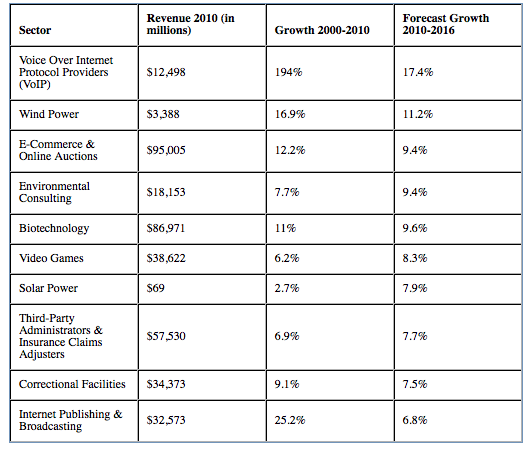 THE RISE OF DIGITAL VOICE
Think of Skype or Google Voice. These technologies transmit voice, or other communications, across the Internet rather than over a telephone network. But Skype and Google Voice command barely 3 percent of the total U.S. market in VoIP. Where is the real growth in digital voice coming from?
It's coming from cable. There are three broad categories of VoIP. First, there is "peer-to-peer" VoIP, like Skype, which connects two callers on two computers over the Internet. Second, there is virtual VoIP like Vonage, where a special phone turns your calls into an Internet signal that rings on another person's phone. Third, there is cable VoIP like Comcast XFINITY, which delivers Internet calls over a private cable network.
By bundling VoIP services with internet and TV, three cable-based VoIP operators, Comcast, Time Warner and Cox, have seized more than half the digital voice industry. Between Comcast and Time Warner, 12 million households were using digital voice services in 2010.

"The rise of VoIP is the death of the land line," said Casey Thormahlen, a senior analyst from IBISWorld. "Between cable providers like Comcast using digital voice technology and companies making inroads in the mobile market, like Vonage, we're going to see a huge technological shift."
The corporate market accounts for only a fifth of the VoIP industry. Thormahlen sees this as a big opportunity for the Microsoft-Skype alliance that was forged last week. "Businesses already get good rates from telecom companies," he said, but if they're really looking to cut communications costs, firms might switch to a high-end office product from the MicroSkype team.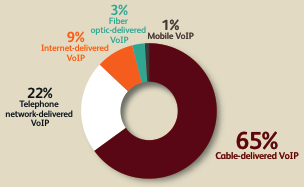 Although Cable-delivered VoIP dominates the landscape today (see the graph to the left) tomorrow's growth might come from non-cable providers. In particular, mobile VoIP is on the cusp of a major revolution, IBIS predicts. The popularity of Android gives Google a platform to launch a big cheap mobile VoIP campaign. Vonage World already offers customers unlimited calling to more than 60 countries for $25, according to a report from IBIS. As the quality of online calls increases, walking and talking over the Internet will seem less like a cheapskate's effort to sacrifice quality calls for slim phone bills, and more like the new normal.
As IBIS concludes in its proprietary report on the digital voice industry, shared exclusively with The Atlantic: "VoIP services do not perform well on narrow-band internet connections, making the penetration of broadband internet technologies a prerequisite to VoIP success. According to an April 2009 study by the Pew Research Center, 63.0% of Americans have home broadband access, a 15 percentage-point increase over 2008. This leaves significant growth potential for the VoIP Providers industry."