The Double Dip's Official: Home Prices Fall to New Low
National home prices are officially on the hunt for a new bottom. After beginning to decline again this summer, once the home buyer credit expired, home prices hit a new post-bubble low in April, according to housing industry consulting firm Clear Capital. It reports that national home prices now sit 0.7% below their March 2009 low. Over the past nine months, they're down 11.5%.
Here's the chart from Clear Capital showing the descent of national home prices: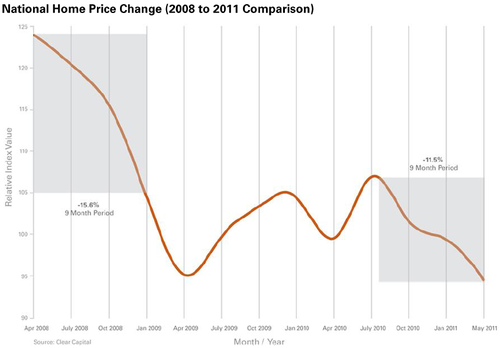 This is ugly, to be sure. Nationally, home prices declined 5.0% over the past year. All four regions of the U.S. saw their prices decline, year-over-year:
Midwest: -6.3%
West: -6.2%
South: -5.2%
Northeast: -1.6%
Clear Capital blames the rapid decline in prices on the saturation of bank-owned foreclosures. They climbed in April. Of course, home buying demand has also remained weak over the past nine months. So as inventory rises and demand sulks, prices are dropping.
Now, we can definitely call this a double dip, but it's important to remember that it's a self-imposed double dip. The home buyer credit essentially prolonged the housing market's agony. Instead of allowing the market to hit its inevitable bottom, the program propped up home buyer demand for a period of time. But once that support was withdrawn, the market continued back down its inevitable path.
Perhaps without the credit, the U.S. housing market would have already hit its bottom and would now be in the process of a slow recovery. But now, as other parts of the economy improve, housing is hurting again. That makes the broader recovery even more difficult.