The Decline of the Manufacturing Job and the Rise of ... Something Else
Lower manufacturing wages are contributing to manufacturing's comeback in the Rust Belt, Michael Fletcher reports in the Washington Post. That will sound to you like good or bad news, depending on whether you put more emphasis on wages or growth. Either way, it's part of a similar trend: The last 30 years have been wonderful for U.S. manufacturing, but less so for U.S. manufacturing workers.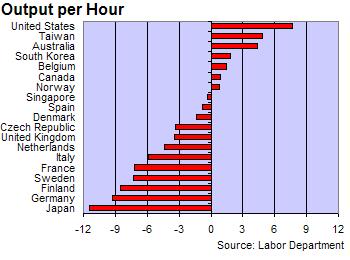 The United States has the mixed fortune of leading the world in not only manufacturing output but also growth in productivity (see chart to left). At the same time, manufacturing's share of total employment has fallen from one in four U.S. jobs in the 1950s to one in ten today. Cheap robot arms and cheap foreign arms make cheap fridges. But all this cost savings comes at the expense of a middle class that used to rely on manufacturing for strong, non-college salaries.
Politicians and pundits trying to claw back manufacturing jobs from bots and Bangalore are asking the tide to stop. But their heart is in the right place. The United States needs better middle class jobs and we can't let a deficit debate gut domestic spending to the point where the United States is pulling back the kind of investments that have created and sustained metro entrepreneurial cultures.

Look at Wichita: The world's aviation-manufacturing capital benefited from an infusion of Defense investment when, during World War II, the US concentrated its military manufacturing inland, in case there was an attack on either coast. Look at Palo Alto and Cupertino: Apple's best ideas came from Xerox PARC, a government research partner that got its founding investment from government-supported universities like Washington University (St. Louis) and Stanford. Look at Washington, D.C., where today's tech revolution is the direct descendant of government consulting and defense research and procurement that exploded in the 1980s. Boston's technology scene revolves around medical devices and pharma, in no small part because of the region's research hospitals, which are subsidized directly and indirectly by the government.

There is a romantic idea in some conservative circles that by stepping back from the private sector, the federal government will give entrepreneurs space to breath and innovate. These folks are right that overbearing regulation is an enemy of start-up culture. But government spending can be, and has been, productivity-enhancing, too.