Sotheby's Stock, Global Bubble Barometer, Is in a Free Fall
Sotheby's stock has fallen more than 30 percent in the last month, on the back of poor sales in New York and Hong Kong.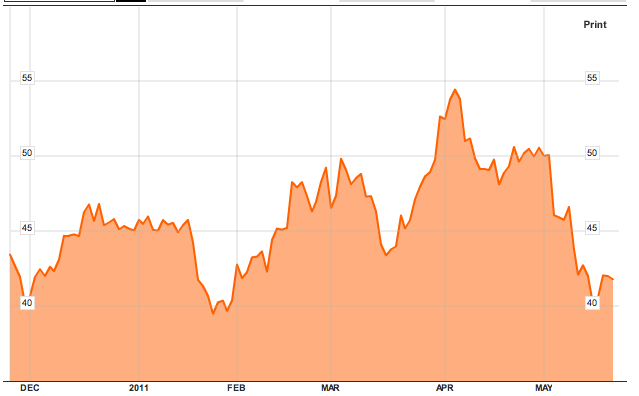 "So what," you say, "it's just a stock." And indeed, there's nothing magical about Sotheby's share prices. But for the last two decades, whether for explicable or coincidental reasons, Sotheby's stock has proven to be a remarkably prescient indicator of economic bubbles. When you pull back to look at the range of its stock prices, the mountain peaks all correspond with economic crises [see below].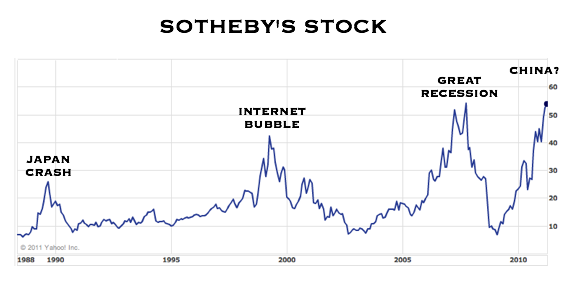 The fourth mountain, and the Everest of the Sotheby's Range, is looming over China, Vikram Mansharamani, author of the
Boombustology
, told me this year. In May 2010, an anonymous bidder believed to be Chinese forked over $106 million for the world's most expensive Picasso. Five months later, three bottles of Chateau Lafite 1869 sold at Sotheby's for 30-times their pre-auction estimate, at $230,000 per bottle to Chinese bidders. In November, an 18th century vase sold for $70 million.
Abigail R. Esman is a contributing editor at Art & Auction, a distinction which instantaneously  makes her more qualified than me
to weigh in on this topic
, says there's nothing to worry about.
The drop in Sotheby's Hong Kong prices demonstrates not so much what is wrong with the art market or, for that matter, with Sotheby's, as with what arguably is wrong with the art market in Hong Kong. China is a new and unsophisticated market, when all is said and done, and the fact that new wealth is creating a new stir with high bids for art works both locally and abroad does not necessarily suggest that the global art market will in any way be affected. The market there, in fact, was largely artificial to begin with, stirred and shaken by Sotheby's own executives just at the beginning of the boom in Chinese contemporary art about ten years ago, in part by cleverly seducing local new money (read: future clients) with fabulous gem sales and the 2006 launch of Sotheby's Diamonds.

As China's growth decelerates and India battles horrific inflation, those twin engines of the world economy are losing some of the horsepower they had just a few months ago. With south and east Asia recalibrating for the rest of the year, we'll be keeping an eye on common and exotic indicators.