Private Sector Jobs Rise, but Jobless Rate Ticks up to 9%
We can't seem to get a clear indication that the U.S. labor market is moving confidently forward. Despite 244,000 new jobs added to the economy -- the most since May 2010 -- the national unemployment rate ticked up to 9.0% in April from 8.8% in March. It would be wonderful if there was an easy way to explain this disparity, but like we saw in January, this appears to be another month where the Bureau of Labor Statistics' two surveys diverge. So which measure should we trust?
The Bad News: The Household Survey
Bad news first: let's start with the household survey data used to calculate the unemployment rate. It wasn't pretty in April: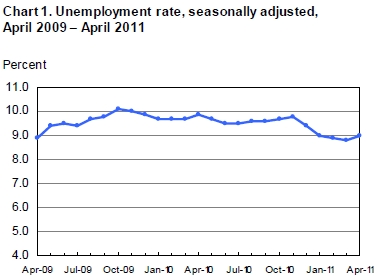 Unfortunately, last month wasn't a story where the unemployment rate ticked up because more discouraged workers are re-entering the workforce: the labor market participation rate was unchanged from March to April. Instead, this survey says the number of unemployed Americans increased by a whopping 205,000 last month, while employment declined by nearly as many workers.
To make matters worse, the number of people not considered in the workforce for technical reasons but still wanted a job also rose, by another 30,000. Here's how that changes the bigger picture for those who want a job but do not have one:
The 235,000 increase for April was the largest bump up since August 2010. According to this broader measure of unemployment, 12.7% of Americans want a job but do not have one.
Additionally, the number of discouraged workers rose in April, but the number of otherwise marginally attached workers declined slightly:
Please note that this chart's data are not seasonally adjusted, but all other statistics discussed in this post are adjusted for seasonality. While this sort of makes it an apples and oranges comparison, it's the only data we've got on discouraged workers from BLS.
The one bit of sort of good news from the household survey is that the number of long-term unemployed ticked down slightly in April:
The bad news, however, is that the number of newly unemployed ticked up by 242,000 -- the most in 18 months. This appears to indicate that the previously unemployed are finding jobs (or giving up), while firms laid off more workers that didn't find jobs quickly in April than in any month since October 2009. If layoffs are ramping back up, then they will create a significant headwind for net job creation.
The Good News: The Establishment Survey
And then, there's the establishment survey, which says that the jobless recovery moved forward at a steady, but low, hum: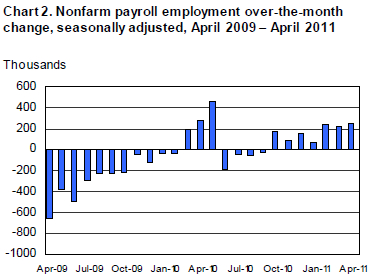 Since February, it appears that job creation has picked up. Today's report also upwardly revised the totals for jobs created in February and March. The three-month average is a fairly stable 233,000. That's not a huge number of jobs, considering that 13.7 million people remain unemployed, but it's certainly better than what we saw in the second half of last year.
Indeed, private sector hiring looked even better, as government jobs declined last month by 24,000:
In fact, April was the very best month for private sector hiring since the recovery began last year. You may recall that temporary Census worker jobs skewed the total jobs numbers last spring, which provided higher numbers overall. But April's 268,000 private sector jobs is clearly the best. In fact, the past three months were all better than any month in 2010. From this perspective, we do appear to be seeing a legitimate recovery on the part of the private sector.

Here's the performance of some major sectors: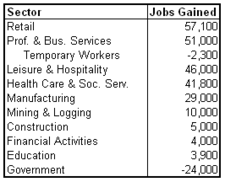 Another nice result: you can't blame temporary jobs for any gains this month. In fact, professional and business services would have been even higher if temporary workers were not considered. There were nice gains in a number of categories, as the only one shown here with a net decline was government. It should be noted, however, that as other sectors begin to show some strength, construction still added just 5,000 jobs.

It sure would be nice if we saw some confirmation of the positive trend suggested by the establishment survey in the household survey. Instead, we have another unemployment report that keeps us wondering whether the economy is consistently adding new jobs or just moving sideways. We'll have to keep waiting until these reports consistently point in the positive direction to declare a robust labor market recovery well underway.