New Yorkers will be hailing a very different-looking cab than they're used to in a few years. Nissan announced today that it won the decade-long exclusive contract to supply the U.S.'s largest city with its taxis starting in 2013. The Nissan NV200 sort of resembles a boxy van -- it looks nothing like the Ford Crown Victoria sedan cabs most prevalent on the streets of NYC today. Here's what the city's cab of the future will look like: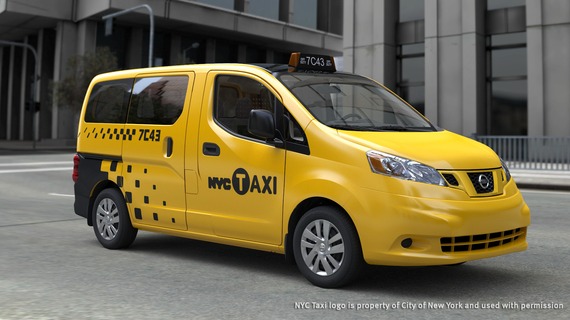 The company's press release provides a few details about the new model. For starters, they won't be produced in Japan. But they also won't be produced in the U.S. Instead, they'll be produced at Nissan's Cuernavaca, Mexico facility.
Although the vehicle is available in various locations across the globe, this occasion will mark its entrance into the U.S. market. It will retail for around $29,000.
As part of the deal, Nissan says it will provide "up to six" of its all-electric LEAF vehicles for NYC cabbies to test. That's not exactly going to result in a smog-free Manhattan, but the press release says the NV200s will be "engineered to enhance the emission performance and fuel efficiency of the taxi fleet," without providing any specific miles-per-gallon estimate.
Here are a few more fun features of the new cabs:
A low-annoyance horn with exterior lights that indicate when the vehicle is honking, helping reduce noise pollution
Transparent roof panel (with shade) that will provide unique views of the city
A mobile charging station for passengers that includes a 12V electrical outlet and two USB plugs
Any New Yorkers reading -- do you love or hate the new cab? Respond in the comments below!
(Image courtesy of Nissan)