Hyundai and GM Impress in April
Gas prices approaching or exceeding $4 nationwide didn't appear to dampen U.S. auto sales in April. Despite the price at the pump rising by about a dollar year-over-year, sales rose by 16.5% over the same period for the big seven automakers -- GM, Ford, Toyota, Honda, Chrysler, Nissan, and Hyundai. But compared to March, sales were down a bit, 7.4% for the same group. Performance varied among automakers, with GM and Hyundai standing out above the others.
Let's start with the chart showing year-over-year increases in sales: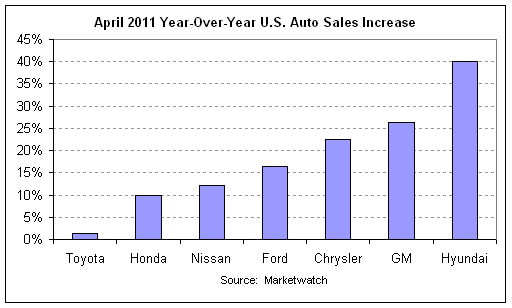 All automakers' sales improved by this measure. The big winner, however, was Hyundai. Its sales jumped 40.0% compared to April 2010. At the bottom of the spectrum is Toyota. Its meager 1.3% sales growth looks especially weak when beside results of the other big-seven automakers.
The picture changes quite a bit when April is compared to March, however: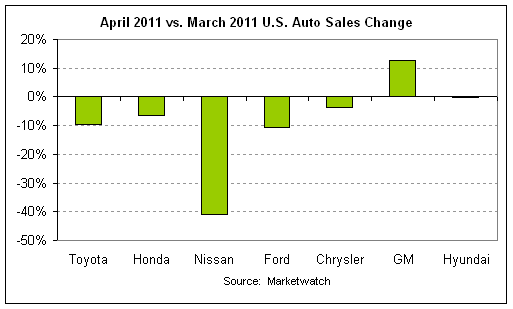 By this measure, GM came out on top: no other automaker saw a month-over-month gain in sales. Also notable were Nissan's big drop and Hyundai's essentially flat growth.
From April 2010 to April 2011, the market share among some of these seven automakers changed significantly: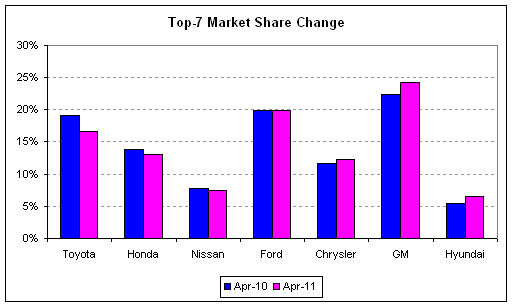 Toyota lost 2.5%, Gm gained 1.9%, and Hyundai gained 1.1%. Those are all pretty big moves. Here's the pie breakout for 2011: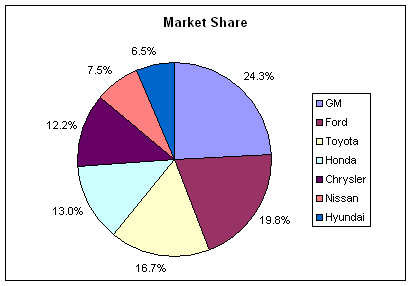 As you can see, GM was the only issuer to account for more than 20% of the sales from this universe of seven automakers in April. At 6.5%, Hyundai remains last, but with the sort of growth it has been experiencing recently, it could eventually pose a threat to Nissan.
Although rising gasoline prices might not be slowing down sales much, they may be pushing consumers towards more fuel efficient vehicles. If you use GM's individual vehicle sales as a case study, you see that its year-over-year growth disproportionately favors its smaller to mid-size vehicles. Combined sales of its Aveo, Cobalt, Cruze, Malibu, and Volt grew 66.7% year-over-year, while sales of its SUVs, crossovers, trucks, and sporty and full-size cars grew by just 18.6% over the same period. So better fuel efficiency does appear to be on the minds of Americans.
(Sources: Marketwatch - GM, Ford, Toyota, Honda, Chrysler, Nissan, Hyundai)