Has the Media Totally Forgotten About the Unemployed?
On Capitol Hill, any trace of job-oriented stimulus has melted with the winter snow. Instead, the city's hot for deficit reduction, and the press has caught the fever.
Articles mentioning unemployment have plummeted nearly 70 percent since last summer, while articles mentioning the deficit have doubled over the same time, according to a National Journal report.
Is this pernicious Beltway loopism? Maybe. But more likely it's the inevitable result of an election that punished stimulus-happy Democrats and opened the doors wide for Republicans who promised to focus with maniacal intensity on the deficit. The 2010 election reshaped Congress, the Congress reshaped the jobs-and-deficit debate, and press coverage shifted to the deficit.
Meanwhile, remember how we have 9 percent unemployment? It's true. We have 9 percent unemployment, according to the most conservative definition of unemployment, and tens of millions of Americans are stuck on the outside of the job market looking in.
So here's an unemployment post (you know, for old time's sake). Today's job market looks nothing like anything we've seen in the last 50 years and a recent IMF report has the graphs to prove it.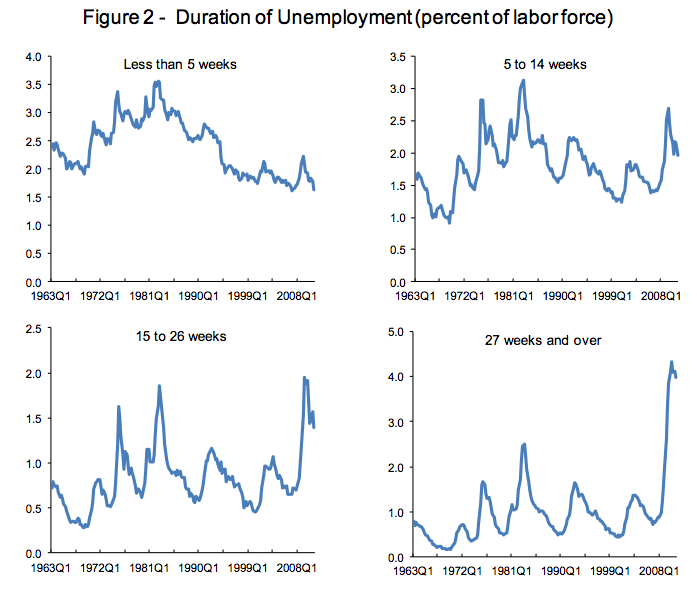 Unemployment duration ain't what it used to be. In 1982, the last time unemployment tipped double digits, joblessness was more of a short-term affair. Across these four categories, the plurality of folks were unemployed for fewer than five weeks. In 2011, by contrast, about half the jobless have been out of work for at least 27 weeks. Just as striking, the number of people unemployed for less than five weeks remained under its historical average even during the worst months of the recession. In 1982, unemployment was a terrible cold, measured in weeks and maybe months. Today it's pneumonia .
One year after the recession hit, layoffs fell below their historical average. So what kept unemployment in double digits throughout 2010? Job openings, which had fallen more than 50 percent from 2007, rebounded moderately. But hires, which had fallen more than 20 percent, didn't recover.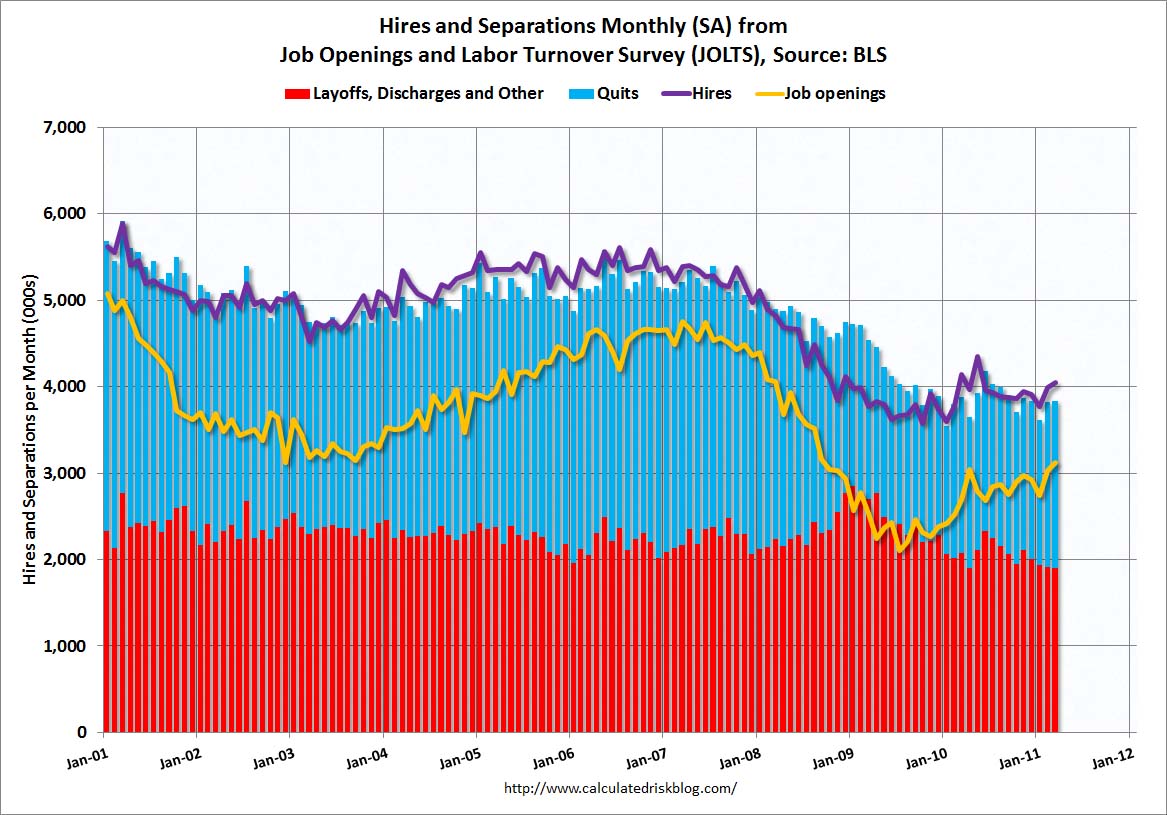 The upshot is that the production economy thawed. But the labor economy froze. And the political will to fix the labor market faded in 2010. The press was partly complicit in this fade-out effect. But it's hard to blame the media too much for resisting to write feverishly about nonexistent efforts to fix a static unemployment problem.