Consumer Confidence Drops to Lowest Level This Year
The pace of the economic recovery isn't matching Americans' expectations

Americans have noticed the economic recovery sputtering. Consumer confidence fell in May to its lowest level since last November, according to the Conference Board. The decline comes after a small uptick in April. This is a pretty discouraging sign, as it could indicate an even more difficult path for U.S. businesses if Americans pull back spending to match their pessimism.
Here's a little history of the Conference Board's Consumer Confidence Index: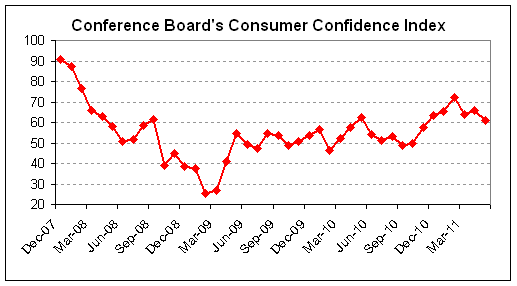 You can see that the chart appears to have reversed course after peaking in February. But this index tends to be pretty noisy, so it's also useful to look at the trialing three-month average to smooth out the trends: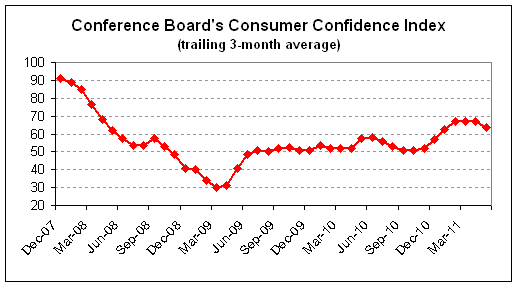 This is arguably even more discouraging. It shows that confidence had risen steadily through February and reached a stable new level not seen since early 2008. But the trend is heading downward again.
The Conference Board's sentiment indices declined across-the-board this month: its Present Situation Index and Expectations Index also each fell. So what's going wrong? The firm cites a number of factors. Generally, Americans worry about future business activity and the job market. They are also concerned about their income prospects and inflation. Of course, falling home prices are also likely weighing on Americans.
So we're looking at more than just rising gas prices here. Consumers are becoming pessimistic on the economy's path more broadly. The pace of the recovery isn't matching their expectations.
This isn't good. At this time, spending is driving hiring, since businesses need to sense greater demand before they bring on additional employees. If consumers pull back -- and this report indicates that they probably will -- then hiring will be even slower or possibly cease altogether.
Image Credit: REUTERS/Kevin Lamarque