College Students Deserve to Know What Degrees Will Pay
... even if they major in what they want, anyway

The typical lifetime earnings of engineering and computer science majors are 50 percent higher than those of humanities majors, according to an analysis by researchers at Georgetown University's Center on Education and the Workforce.
The Washington Post captures the big picture with a big picture: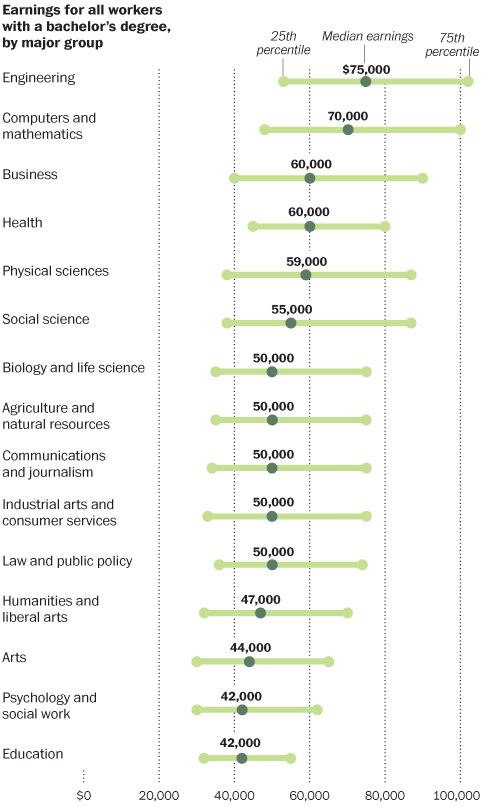 "I don't want to slight Shakespeare," said Anthony Carnevale, one of the report's authors, in the article by Peter Whoriskey. "But this study slights Shakespeare."
Cheer up, Anthony Carnevale! This study does not "slight" Shakespeare, who himself never set out to raise the expected earnings of 21st century teenagers reading his sentences, and whose professors don't market his complete works as a pre-professional prep book. Many of the students who love Shakespeare -- or Hart Crane, or Latin American anthropology -- study those subjects to enrich, not to get rich. College is an investment. But it's also an experience that can't be charted by the Washington Post graphics department.

And yet .. it's still an investment! This research is important, not because it invalidates the degrees of humanities majors, but because it provides something sorely lacking in the college application/matriculation process: data. Most big, long-term investments -- a house, a security, a 401(k) plan -- come with more information than you can use. But a four-year degree, which is a $100,000 to $200,000 investment at many private and public schools, is a black hole of data.
It's becoming a black hole of cash, too. The price of a post-secondary education is rising even faster than health care costs. Four-year college student graduate with an average of $25,000 in loan debt ... and those are the success stories, since fewer than 60 percent of four-year college students graduate in six years, anyway.

Better data wouldn't cure education inflation, but it would be a good start. The government should require every college to post a standard fact sheet about its degrees, along the lines of Harvard University education economist Bridget Terry Long's paper. The fact sheet could include total cost of attendance (median and average), loan default rate by degree, six-year graduation rate, employment rate and median salary twelve months after graduation, and alumni satisfaction rate.

Choosing a school will never be as easy as choosing a digital camera. And it shouldn't be. But if we force schools to make their specs as transparent as a Best Buy product, students might make better decisions about where to go, how long to stay, and what to study. The purpose of all this schooling, after all, is not strictly to maximize net graduate earnings, but to give each student the sort of education that maximizes her own definition of success and achievement. As one great business and career guru once put it, "Gold that's put to use more gold begets."
Wait, nevermind. That was Shakespeare.