Chart of the Day: Construction Spending 'Rebounds'?
There's no industry in more pain right now than construction. The real estate bubble extended beyond just housing -- commercial real estate prices rose and fell over roughly the same period. As a result, construction is hurting across-the-board, since too much building occurred over the past decade and there's little need for additional structures at this time. How ugly does the construction picture look? It's so bad that the industry might be relieved to see a measly 1.4% uptick in March construction spending.
Here's the chart, from the Census Bureau: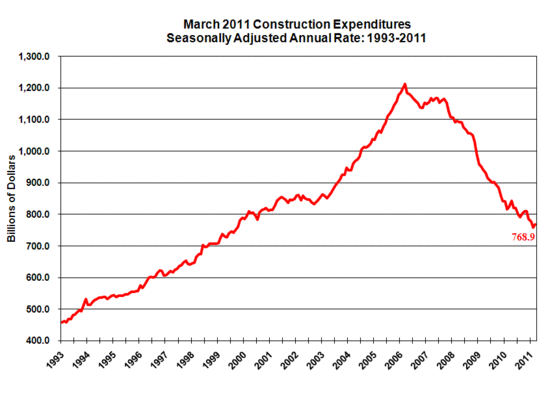 See that tiny uptick to the far right? That's all the construction industry has to celebrate. As bad as this picture looks, it could be worse, however. March's little gain reversed a steep three-month decline in construction spending. Still, it remains at 1999 levels.
This is bad news for jobs, as construction was one of the sectors hardest-hit by layoffs. It may be good news for the real estate market, however. If fewer new structures are being built, then demand will slowly soak up the overabundant existing inventory of empty homes and office space. That way, the market should stabilize sooner than it would if the consumers and firms were building new homes and offices instead.