Chart of the Day: ADP vs. BLS on Jobs Created
A statistic is useless unless its source calculates it fairly and accurately. While it's hard for us journalists to perform an audit on the government to determine how good a job it's doing at providing valid economic data, we can compare the government's results to alternative measures. One important statistic the government provides each month is the number of jobs created in the U.S. economy. The data for April comes out this Friday, but payroll firm ADP provides its own calculation a few days early. Let's see how it has compared to the government number each month since the labor market recovery began.
Here's the chart, showing the ADP calculation versus the Bureau of Labor Statitsics calculation for the number of jobs created by the private sector (ADP's data does not cover government hiring.):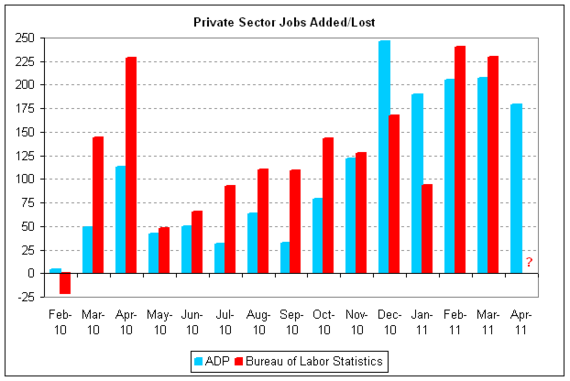 A few things jump out here.
First, the numbers aren't generally that far off and often trend in the same direction. In general, the BLS estimate looks a little more optimistic than the ADP estimate, with the few exceptions, including February 2010, December 2010, and January 2011.
Second, if the BLS trend matches that of ADP in April, then the government will report slower hiring on Friday. In particular, we might see around 200,000 private sector jobs, compared to 179,000 estimated by ADP and 230,000 estimated by BLS in March.
Ultimately, if you believe that ADP is providing accurate, unbiased data, then you can also probably gather that the government's data isn't too far off. After all, there's no dramatic divergence between the two estimates. It would be unrealistic to expect them to line up perfectly.