51% of Americans Pay No Federal Income Taxes
Half of American tax payers owe no federal income tax, and most of those filers actually net tax benefits from federal income taxes, according to analysis from the Joint Committee on Taxation in a letter to the Republicans on the Senate Finance Committee.
This is the kind of statistic that is bound to get traction as Osama news subsides, and here are two ways to look at it.
THEY'RE STILL PAYING TAXES (MOST OF THEM, ANYWAY)
The majority of households who pay no income tax still pay net taxes to the IRS. Federal income taxes account for about 40 percent of total government receipts. Most of the rest comes from payroll taxes, which workers of all income levels do pay. Since every dollar up to $106,800 is subject to taxes, a typical middle class family pays payroll taxes on all its income while a millionaire employee pays payroll taxes on only a tenth of his income.
At the same time, there are Americans -- millions of them -- who really do pay practically zero overall taxes. About fifteen million American households, or 10 percent of all taxpayers, receive more cash from the IRS than they contribute in federal income taxes and payroll taxes. That's thanks to "refundable credits," tax credits that can bring your tax bill into negative territory. To some, these 15 million are low-income Americans benefiting from smart and targeted welfare run through the tax code. To others, they are unacceptable free riders, citizens with a vote but no stake in federal government.
THE TOP 20% EARNS 50% OF THE INCOME
The richest 20 percent of the country pays more than half of income taxes for two simple reasons: America's wealthiest 20 percent earns half the nation's income and their income is taxed at a higher rate. The Wall Street Journal brings the visuals: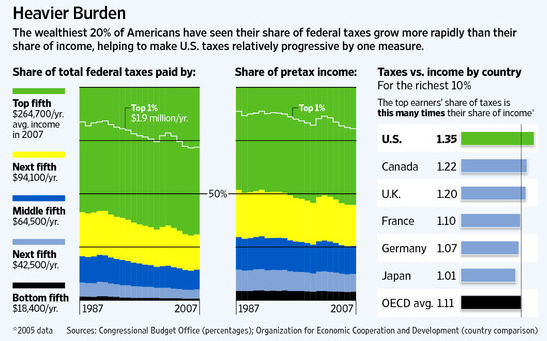 The wealthiest quintile's share of federal taxes has grown more rapidly than their share of income. This suggests that the rich are facing steeper taxes. Not so. Effective tax rates at the top have fallen in every decade since 1970. But since effective tax rates also fell for every other quintile, the share of taxes paid by the rich has increased.
I have a feeling we're going to hear variations of the question: How can the rich be paying too much while income inequality is at an 80 year high? I think it's better to see both stats as a part of the same story rather than two conflicting narratives. In the last 30 years, incomes have grown faster at the top than the middle. Over the same time, effective tax rates fell for every family. And because a four percentage-point tax cut means a 50 percent tax cut for the poor but only a 10 percent tax cut for the rich, the share of overall taxes paid by the middle- and lower-class has decreased faster than their share of pretax income.