When an 11% Rise in New Home Sales Fails to Impress
Under most circumstances an 11% increase sounds pretty good. Most people would be psyched about an 11% increase in their salary. If the nation's GDP increased by 11%, there would be partying in the streets. But similar euphoria isn't likely being felt today by builders hearing about an 11% increase in the annualized rate of new home sales in March over February. At just 300,000, they remain very, very low on a historical basis.
You can see this pretty clearly through the chart on new home sales, from Census Bureau data: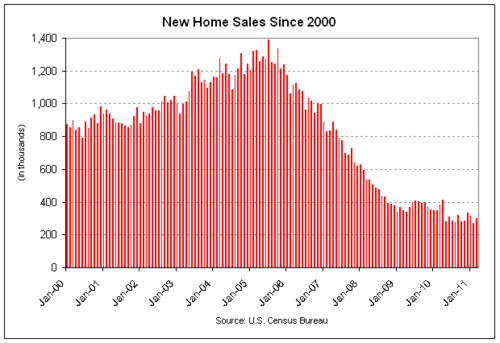 The annual pace of new home sales is down by more than one million compared to the height of the housing boom. To put March's number of 300,000 into context, it was an 11.1% increase over February, but that month marked an all-time low for the pace of new home sales. March failed to make up the ground lost in February from January, when sales were 312,000. New home sales were also down by 21.9% last month compared to March 2010, when the home buyer credit was still in effect.
This change isn't particularly shocking, as we know housing permits and starts have remained at relatively low levels over the past several months as well. Still, today's data shows that there's little reason for home builders to be optimistic about a recovery in their industry anytime soon. For now, most must focus on renovation work, which will likely keep some busy as Americans focus their restrained home buying on the vast inventory of existing homes. Since many of those are distressed sales including foreclosures, a number of buyers will want to spend some money improving their newly purchased homes.
And for now, that's a good thing for the broader housing market. As long as new home sales remain low, buying is focused on exhausting the still-growing inventory of existing homes. Once defaults, short sales, and foreclosures begin to slow, more new homes will follow. But until then, consumers can get great deals on homes that they can just fix up and make feel like new instead.