Think the U.S. can drill its way out of expensive gas? Think again.
Gas prices are on a collision path with $4, putting additional burden on an economy that's recovering from a housing bust, credit crunch, and deep recession. What goes into the price of gasoline and why is it rising so fast all of a sudden?
Let's look at the price at the pump. Every year, the U.S. Energy Information Administration breaks down the price of a gallon of gas into four major components: First, there are state and federal gas taxes, which add between 20 and 50 cents to the final price. Second, you have additional costs like distribution, marketing and refining. To turn crude into gasoline and sell it at the pump, the oil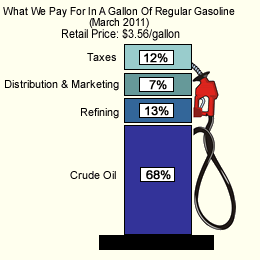 has to be refined, shipped by pipeline, loaded into trucks to drive to individual stations, and purchased for resale to the public. Longer shipping routes, more refined gas, and more convenient service station locations are all culprits in higher gas prices.
Fourth, and most importantly, you have the price of crude oil, which has nearly tripled in the last seven years. In 2004, when the average price for crude oil was $37 per barrel, crude composed only 47 percent of the price of regular gasoline. Today, crude is closer to $111 per barrel, composing two-thirds of the price we pay at the pump.