This Is What the Post-Employee Economy Looks Like
The largest companies in 2011 have twice the the value of their 1964 counterparts with a quarter of the employees. Should we care?
Fifty years ago, the four most valuable U.S. companies employed an average of 430,000 people with an average market cap of $180 billion. This year, the four largest U.S. companies employ an average 120,000 people with an average market cap of $334 billion. The titans of 2011 have twice the the value of their 1964 counterparts with a quarter of the employees.
One statistic is a snapshot of the economy, not a complete wall-to-wall portrait. But zooming out reveals a similar picture: America's largest companies are making much more money with much fewer workers. In the last two years, the Dow has recovered three-quarters of its losses while our employment ratio remains at an historic low. But the profit-hiring gap isn't a temporary side-effect of the post-recession economy. It's a function of the economy, period.
Below is a a glimpse of the 10 most valuable companies in the world in 2011 vs. 1964 in order of market cap (in red) with their number of employees measured in blue. Witness the red tide. Figures are via New York.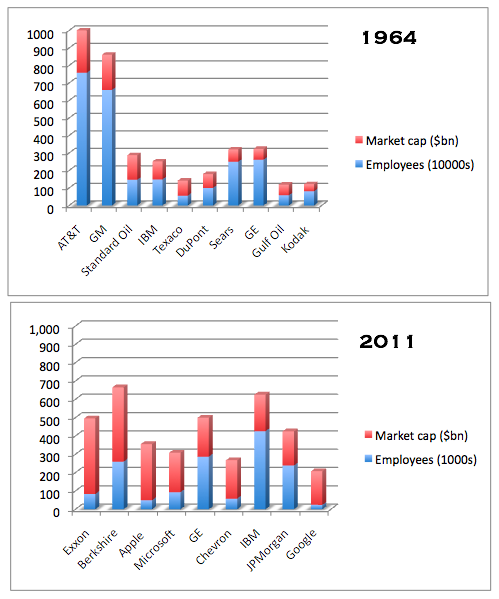 A few observations:

1) The lesson these graphs scream loudest to me is the decline of the wired telecom and auto manufacturing industries, which used to be huge job machines. The former lost 55% of its revenue between 2000 and 2010 as mobile phones proliferated. The latter suffered a more protracted slump, but lost nearly a seventh of its total employment between 1992 and 2010.

2) As New York's Andre Tartar adds, these figures are even more striking when you take into account that a third of US-based corporations' employees are stationed overseas in 2011. Half of GE's employees, and three-fourths of IBM's workforce, are outside the U.S.

3) You might notice the last chart has only nine companies. That's because I've excluded Walmart, whose chart-busting 2.1 million employees is the equal of the top six companies (Exxon, Berkshire Hathaway, Apple, Microsoft, GE and Chevron) combined and doubled. This statistic, together with McDonald's announcement that it's adding 50,000 jobs this week, is a reminder that the jobs least replaceable by technology and globalization are on-scene service jobs that haven't been automated. That doesn't make them the fastest growing jobs (or the best paying jobs, for sure). But it makes them safe. For now.

>