Raising Tax Revenue Isn't Impossible, It's Easy
What do conservatives mean when they say "it's not a taxing problem, it's a spending problem"? One real argument behind the talking point is that it's impossible to follow the White House's plan to raise taxes permanently higher than 20%, because we've never done it before.
They're right. Tax receipts only exceed 20% twice in the last 60 years -- once before World War II and again in the dot-com boom. After both occasions, revenue fell quickly. For the anti-tax crowd, the deficit debate begins and ends with this graph showing that no matter where tax rates go, tax revenues seem to consistently hover around 18 percent of GDP.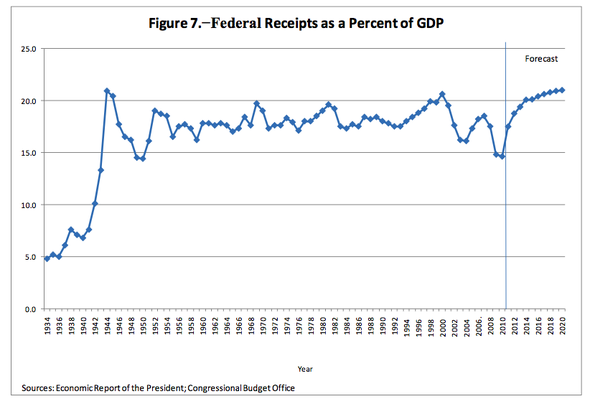 But there's nothing particularly innate or magical about this 18 percent figure, says Roberton Williams of the Tax Policy Center. Tax revenues rarely stay above 19 percent of GDP because Washington keep cutting taxes.
Every time revenue has approached 20 percent of GDP, we've cut taxes and revenue has gone down, or we've been hit with a recession, or both. Check it out: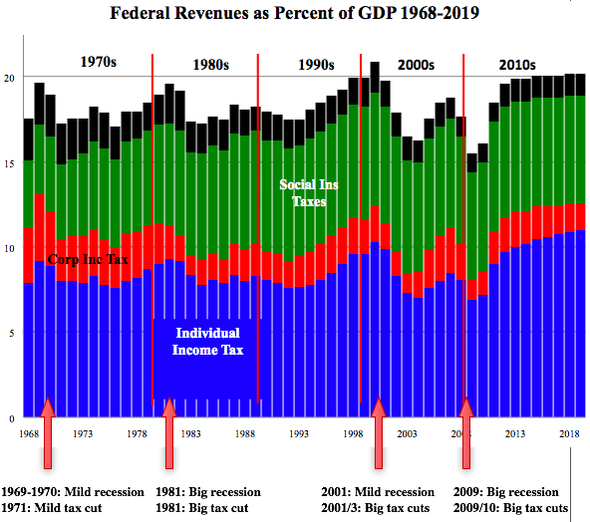 So, it's not that tax revenue is inherently thermostatic. It's that we keep adjusting the thermostat. Raising tax revenue isn't impossible, it's easy. Just stop cutting taxes.
Why do we keep cutting taxes, anyway? One factor is that we often use recession to push through dramatic changes in the tax code. Another factor Williams cites is a phenomenon called "real bracket creep." That means, all else equal, taxes increase when people get richer. Families earn more income, they climb one wrung on the tax ladder, and they pay a higher tax on their last dollar.
Washington -- and Washington conservatives in particular -- abhor real bracket creep. (Here's AEI's Kevin Hassett in 2000 likening it to a phantom stalking in the night to steal income.) That's one reason why every few years Congress cuts taxes. You can make a good case for some of these tax cuts, but the bottom line is that tax revenue has hovered around 18 percent for the last 50 years because of decisions we have made to keep taxes low -- not because it is impossible in the United States to raise 20 percent of GDP in tax revenue.