Producer Prices Remain Tame in March
Despite the increase in gasoline prices plaguing consumers, producers prices rose only modestly in March. The Producer Price Index (PPI) for finished goods rose by 0.7% during the month, according to the Bureau of Labor Statistics. That's actually the smallest monthly increase since November. Energy did cause most of that increase, however.
Here's the chart of PPI for finished goods: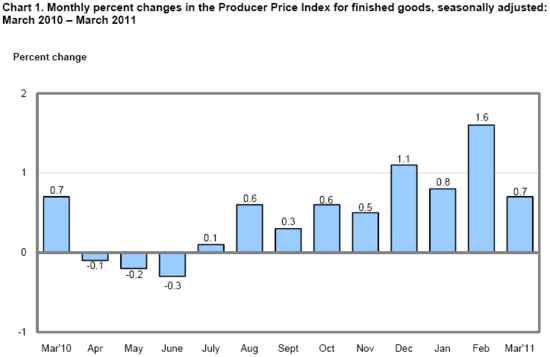 March's 0.7% increase in producer prices matches the increase a year earlier. It was higher than what was seen until December, but it's also significantly lower than the increase in prices seen during some of the winter months.
As mentioned, energy prices led the increase. They were up by 2.6% for finished goods. Food prices, however, declined in March by 0.2%.
Because food and energy prices tend to be volatile, considering core PPI -- the measure that excludes these goods -- can be useful in determining longer-term inflation trends. Core PPI for finished goods was just 0.3% in March. This does not appear to deviate very far from the 12-month trend of relatively low inflation: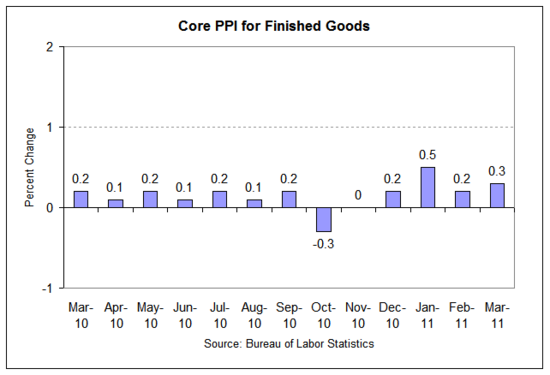 From this, you can see that other prices are not yet moving in sync with energy prices. That indicates that most macroeconomists probably aren't too worried about inflation yet.
BLS also provides PPI for intermediate goods and crude goods. Both of those measures were largely in line with what we've seen over the past year as well. For intermediate goods, PPI was 1.5%, compared to 0.6% a year earlier. That might appear to indicate some inflation for these goods. But core PPI was 0.9%, compared to 0.7% a year ago. Food and energy prices drove  the increase in intermediate good prices, as you might expect.
For crude goods, prices actually fell in March. PPI for crude goods was -0.5% in March, compared to -1.0% a year earlier. Core PPI was -2.3% last month, compared to 5.2% a year earlier. Obviously, it's hard to feel very concerned about inflation when prices are declining.

From today's report, it's pretty clear that producer prices are rising moderately, but most of that increase is coming from energy. To the extent that rising prices are isolated to energy, there's not much reason to worry about widespread inflation. But if prices begin to move upward more aggressively in unison, then this could indicate that energy prices have begun to affect the prices of other goods as well.