OECD: U.S. Outspends Average Developed Country 141% in Health Care
In health care spending, we are still number one. And it isn't even close.
The United States spends 51% more than the world's second-biggest health-care spender, Norway, and 141% more than the average OECD country, according to a new survey. Our life expectancy, at 77.9 years, is about a year and a half below the OECD average.
When you graph it out, clusters appear. Rich, East-Asian countries like Korea and Japan have 80+ life expectancies with below-average spending. Western Europe clogs the middle, with Sweden and Switzerland enjoying the longest lives (Sweden relies on public insurance, while Switzerland relies heavily on private insurance). The U.S., however, barely fits on the map.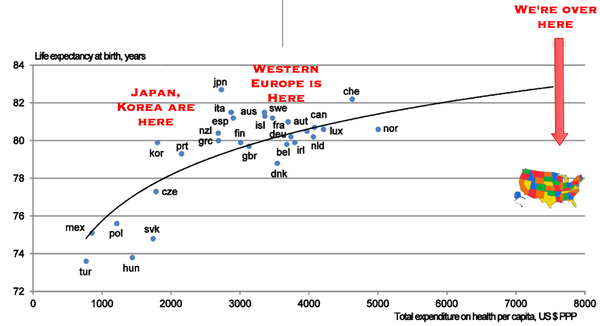 The only OECD countries with levels of uninsured people comparable to the U.S.? Mexico and Turkey, which appear at the bottom of the line in the graph above.
The OECD's grand conclusion from studying the world's health care systems is, well, that there are few grand conclusions to draw from the world's health care systems. Countries with public insurance do about as well as countries with private insurance. But there are some micro-recommendations. Prices should be more transparent; consumers should bear more costs for non-catastrophic health care; hospitals should coordinate care and be paid according to performance rather than their sheer number of treatments.
One particularly fascinating section explains how three countries with private-dominant health care systems -- Germany, the Netherlands, and Switzerland -- provide equitable care for sick and poor patients:
Interestingly, inequalities tend to be relatively low in three of the four countries with a private insurance-based system - Germany, the Netherlands and Switzerland. One reason may be that regulations in these countries - such as the requirement on insurers to enrol any applicant and equalisation schemes across insurers to compensate for high risk enrolees - can help limit the hunt for better-off patients and the desire to shed bad risks (so-called "cream-skimming"). These and other potential biases can be caused by market mechanisms if left unchecked. Note that inequalities are often caused by factors that have little to do with the health care system itself, such as social status and education.