Leading Indicators Suggest Continuing, Though Modest, Growth
Recovery cheerleaders got some good, but not great, news today. The Conference Board's Leading Economic Indicator Index (LEI) continued to grow in March. It's one of the few measures out there that attempt to predict how the economy will grow or contract based on several forward-looking measures. The LEI expanded by 0.4% last month, which suggests slower growth than February's 1.0% increase. A couple of factors continue to push the economy forward, while one held it back.
Let's start with the chart from the Conference Board's press release: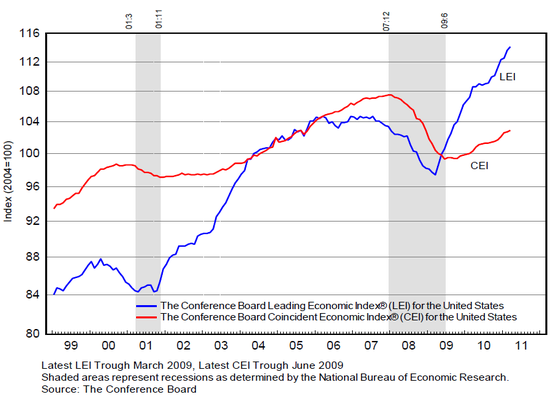 You can see that the Conference Board also provides a Coincident Economic Indicator. The LEI (blue line) gives a better sense of what lies ahead, however.
It has grown rather steeply since early 2009, slowed for a time in 2010, but resumed more aggressive growth late last year. Its 0.4% increase continues this trend, though it doesn't match February's rise.
When looking at the 10 components that make up the LEI, six were virtually flat in March. Of those six, about half were barely negative and half barely positive. The LEI was heavily influenced by the other four factors last month.
The big gains were in supplier deliveries, home building permits, and interest rate spreads. If the index consisted of just those three components alone, it would have increased by 0.9% instead, as they each increased by about 0.3%.
Of course, that's not what happened overall, mostly due to consumer expectations. They fell significantly in March, and that brought down the LEI by 0.4%. This was likely due in large part to rising gasoline prices, which consumers really hate.
This all adds up to a slowing, but enduring, recovery. As long as gasoline prices don't erode consumer confidence lot further, other positive aspects of the economy should keep it moving forward. Unfortunately, this is likely a recipe for prolonged high unemployment. As long as firms see weakening consumer demand, they will hire less aggressively.