Jobs Picture Brightened Slightly in March with 216,000 Added
The U.S. labor market continued to grow in March, though still slowly. The economy added 216,000 new jobs, according to the Bureau of Labor Statistics. Additional jobs pushed the unemployment rate down from 8.9% to 8.8% -- the lowest it's been since March 2009. Both those results slightly beat economists consensus expectations, which predicted about 30,000 fewer jobs and the rate to rise to 9.0%. This improvement appears to be real if you look at the broader picture.
Let's start with the charts provided by BLS: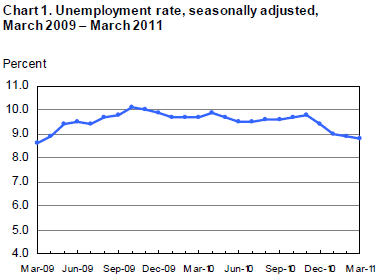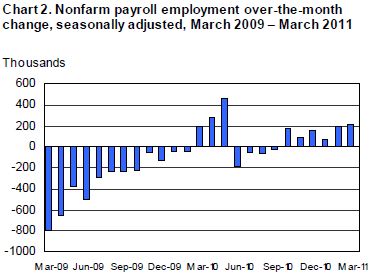 The rate has clearly declined a lot recently, but the job growth looks less impressive. This is because the rate dropped, in part, due to some Americans leaving the workforce instead of finding jobs over the past year. But it's also because the two measures of employment that BLS uses haven't agreed on the speed of the labor market's recovery.
One mildly impressive result for March was the private sector job growth. It added 230,000: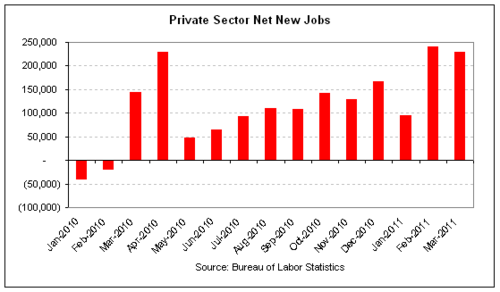 You can see that, other than the 240,00 private sector jobs added in February, March had the most since employment began to improve last year, slightly edging out April 2010. You might have noticed that private jobs grew faster than total jobs. That means government jobs fell in March. They were down 14,000, entirely due to a decline in local government jobs. Here's a more detailed picture of how various sectors performed in March: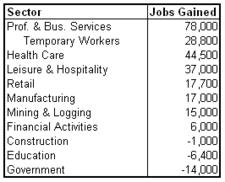 You can see that professional and business services added a large number of positions, due in part to ample temporary hires. Health care continued its usual resilience, while leisure and hospitality appears to be coming back. Other than government, the other job losers on this list were education -- again, entirely due to local government layoffs -- and construction. That latter industry saw an uptick of 37,000 new jobs in February, but resumed its decline in March.
This month's improvement seems real, because broader measures of unemployment also declined. First, here's a chart showing the number of unemployed workers plus those who aren't technically considered unemployed by BLS, but want jobs and don't have one: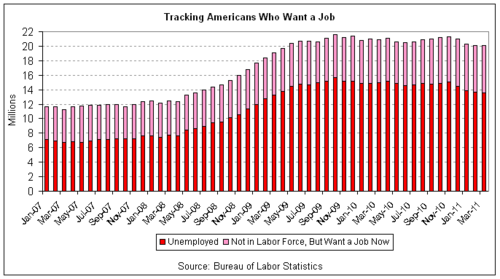 March marks the lowest this sum been since April 2009. It declined by 190,000 in last month. But interestingly, the number of workers who want a job but don't have one increased by 99,000 to 6.5 million -- the most yet.
The subset of those who want a job, but aren't technically considered unemployed, that are discouraged or otherwise marginally attached also declined in March (this chart is the only one not seasonally adjusted):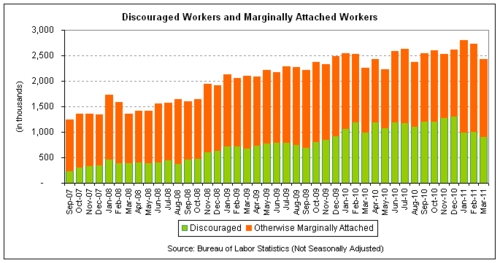 You can see that this is a pretty significant drop, as this group of workers is the smallest since August 2010. Moreover, the broadest measure of unemployment (U-6), which includes discouraged, otherwise marginally attached, and Americans who are working part-time even though they would prefer full-time work, also declined in March from 15.9% to 15.7%. That's the lowest it's been in two years.
Overall, this is a modestly positive report for the U.S. economy. The progress appears to be real, as both surveys BLS completes mostly agree. We also saw more Americans enter the workforce than the population increased, which implies that some who were sitting on the sidelines are looking for jobs again. But 216,000 new jobs is still fewer than would be necessary to rapidly push down the unemployment rate. The labor market needs around 150,000 new jobs every month just to keep up with new entrants.