How Bleak Does the U.S. Job Market Look?
More job openings were reported in February than in any month since September 2008. During the month 3.1 million jobs were available, according to the Bureau of Labor Statistics. That might sound like great news -- until you remember that over 20 million Americans want a job, but do not have one. While the trend of more openings is encouraging, the bigger picture for job seekers remains bleak.
For starters, here' show job openings have changed since 2007: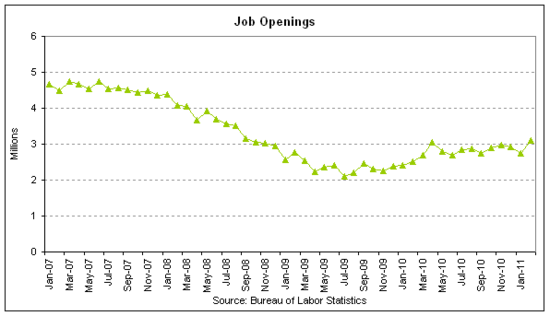 For the labor market to recover quickly, job openings should rise even above pre-recessionary levels. They did a little better in February, but they remain quite low.
If you consider that unemployment has declined recently, the ratio of unemployed Americans per job opening has improved a little more significantly: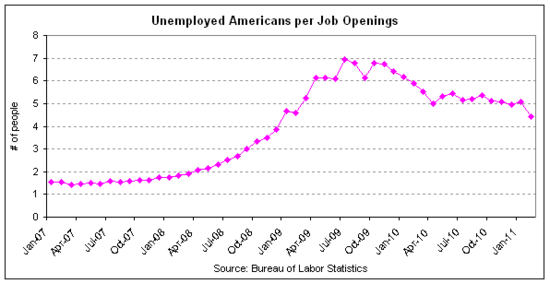 At 4.4 unemployed Americans per job, the ratio is the lowest since December 2008. Of course, the ratio also clearly shows that the labor market cannot nearly provide jobs for all unemployed Americans.
The chart below shows that fact even more clearly: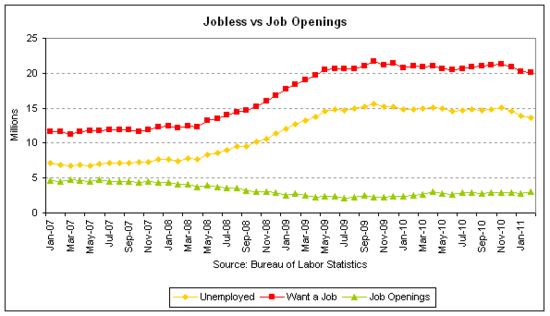 The yellow line represents the number of Americans "officially" unemployed, according to BLS. But the red line shows those jobless Americans plus number of people who BLS says want a job, but don't technically qualified as being unemployed, due to reasons such as discouragement. While the gap between the yellow line and green line (openings) looks bad, if you consider the red line, it looks much worse. In February, 6.5 people wanted a job for every opening.