Housing Starts and Permits Ticked Up in March
Although the new home building market continues to struggle, it improved slightly in March. Housing starts and permits, which are both forward-looking indicators, both rose during the month, according to the Census Bureau. The indicators have been moving up and down for several months, however. Is home building really picking up?
First, let's look at the data. Here's the chart for new home building permits: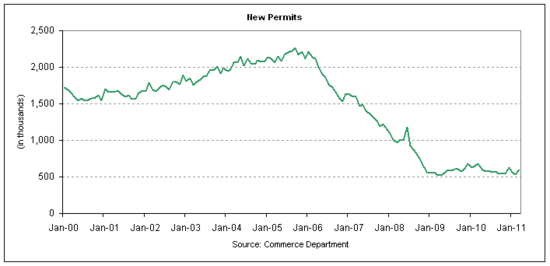 You can see the volatility in recent months. Permits were up in December by 15.3%, then declined in the two months that followed by slightly more than that. They rose again in March by 11.2%
You see similar results for housing starts, which indicate that ground has been broken on building a new home: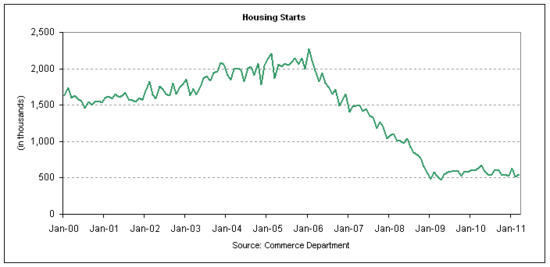 This shows that starts increased by 20.3% in January, only to fall 18.5% in February, and then rose 7.2% in March.
So what should we make of this? The big increase in permits in December, which resulted in a January uptick in starts, was due mostly to the construction of more multifamily dwellings. As a result, that was more likely due to more rental demand than consumer home buying appetite.
For building permits in March, the results were actually rather similar. Multi-family structures accounted for roughly two-thirds of the increase in permits. That's about the same result as in December. But for housing starts, multi-family dwellings accounted for only about one-third of the broken ground. The big January increase in starts consisted of 90% multifamily homes.
What does it all mean? The home building market remains weak and clouded with uncertainty. The upticks in permits and starts in March still leaves them both at very, very low levels from a historical perspective. The increase in permits was due in large part to multifamily dwellings, which indicates that single family homes are not leading the little bump in building permits.
The results were a little different for starts, but it's hard to get too excited over a 30,000 increase in the annual rate of single-family homes being built. That's only a few thousand per month more than the pace for February. And then, starts were the weakest since April 2009 -- when they hit their lowest rate in at least two decades.
If there's any silver lining to find here, it's that fewer new homes being built means that the massive inventory of existing homes will be bought up more quickly. If Americans were building more homes while existing home inventory soared, then it would take even longer for the market to reach its bottom.