Graph of the Day: Ryan vs. Obama vs. the Commissions
The economists of Goldman Sachs made an apples-to-apples comparison of the four most prominent deficit reduction plans: Paul Ryan's budget, President Obama's speech, the Fiscal Commission's proposal (Simpson-Bowles), and the Bipartisan Policy Center's plan (Rivlin-Domenici).* I've turned their numbers into pie charts, where each sliver of the pie represents a category of savings.
Take a look: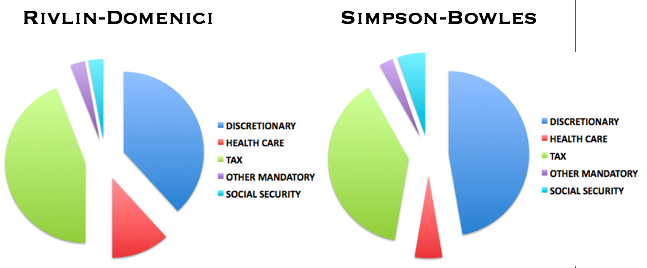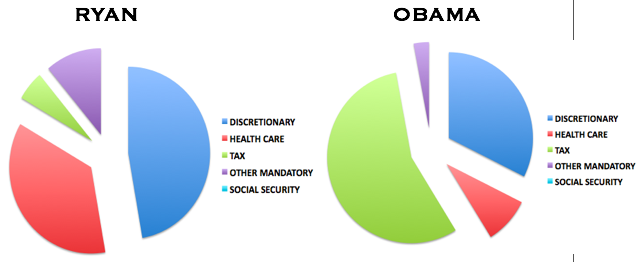 Four conclusions from me:
1) Entitlement reform -- health care reform and Social Security reform -- is important, but it won't save us much money in the next ten years. The deficit commissions both find 85% of their savings in discretionary cuts and tax increases. So remember, health care reform is essential to fixing our long-term budget woes. But it's not as central as spending cuts and tax increases for now.
2) Neither President Obama nor Rep. Ryan proposed specific changes to Social Security. Meanwhile, the House of Representatives just voted to phase out Medicare in 2022. Ladies and gents, we have a survivor in the Third Rail Sweepstakes.
3) Compare the green slices and you see one of these pies is not like the other. Tax increases account for between 40% and 55% of the savings in the two commissions and the president's plan. In Ryan's budget, however, they're for 6% of total savings. Ryan's plan is radical, not just because he schedules the unwinding of Medicare in 2022, but because he, alone among the most prominent plans in Washington, basically puts tax increases off the table.
4) Only a bipartisan plan will make it to the president's desk. Simpson-Bowles and Rivlin-Domenici are bipartisan plans, and they use tax increases to fund almost half of deficit reduction. The House today just voted on a plan that relies on spending cuts for over 90%. This is a radical plan endorsed by a radical caucus.
The president's plan might be vague, but Obama is roughly in keeping with bipartisan proposals written by wonks and electeds on both sides of the aisle. Ryan cannot say the same.
________
* One fair critique of this chart is that the president and Ryan's tax proposals are too vague to possibly score in this fashion.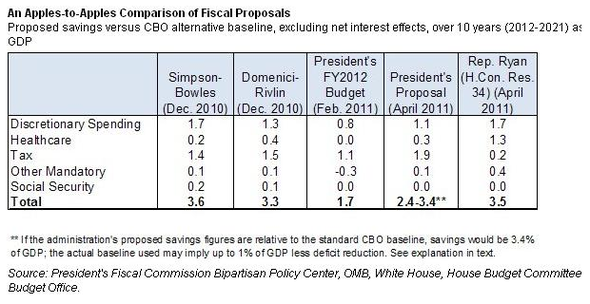 Via
Reuters