Government Foreclosure Prevention Reports More Lackluster Results
The performance of the government's foreclosure prevent effort that we've seen over the past year ("HAMP") has been weaker than some had hoped. Instead of modifying a few million mortgages, it will be lucky to hit one million successful permanent modifications. In its February report, the Treasury provides some additional information on other foreclosure-prevention efforts. Their results aren't any better.
HAMP
First, let's look at the progress of the HAMP program, updated for February: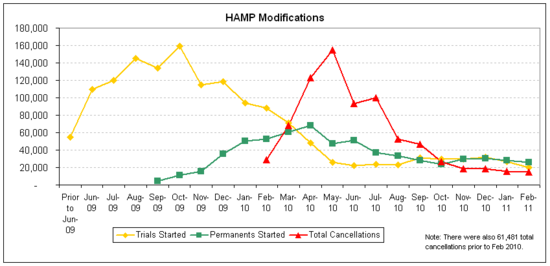 As you can see, the program's best days are behind it. New modifications are trickling in now at less than 30,000 per month. In fact, February hit a new low of just 20,000 new modifications. The number of modifications made permanent was also the second lowest since November 2009, at 26,147. The tally of total active permanent HAMP modifications is now 557,076.

Second Lien Modification Program
But the big news from this report was that the Treasury provided statistics for two other components of its foreclosure prevention effort. Its Second Lien Modification Program seeks to cut the size of borrowers second liens when modifying their mortgages through HAMP. The program was introduced in August 2009. According to today's report, 16,951 second lien modifications have been started under the program through February. Obviously, that's not a very impressive tally for a program that was initiated 18 months earlier. This is a very low number of modifications, and the statistic indicates that they have not yet been made permanent.
Home Affordable Foreclosure Alternatives Program
The Treasury also has a program to attempt provide ways for struggling homeowners to avoid foreclosure, even if they don't keep their home through a modification. It promotes short sales and deeds-in-lieu of foreclosure. This program was announced in November 2009. A little more than a year later, today's report shows that 4,488 transactions have been completed through this program, of the 10,177 transactions started. Again, this isn't a very impressive result.

The weakness of these programs likely reflects the unwillingness of banks and servicers to participate. If the benefits were strong enough, banks and servicers would eagerly modify more mortgages and second liens. Of course, the Treasury cannot allow those benefits to be too profitable for banks and servicers at taxpayers' expense. So it likely finds itself in the conflicted role of managing programs that must cost taxpayers a lot of money to be very effective. The result is the lackluster performance we're seeing.