Chart of the Day: U.S. Outspends Developed World 141% in Health Care
"The three most important health-care graphs in the world" on Ezra Klein's blog demonstrate in no subtle way the extraordinary costs of U.S. medicine. One of the commenters requests a look at health care spending compared to life expectancy. Hey guess what: There's a graph for that.
Fresh off the OECD printing press, here is a picture of health care spending versus life expectancy at birth across the world. The term outlier is putting things lightly: The U.S. is nearly off the map.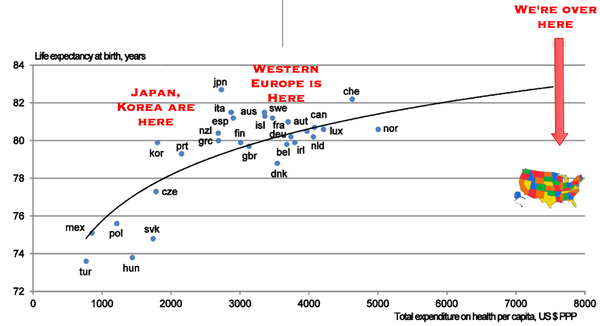 The upshot is that the United States spends 51% more than the world's second-biggest health-care spender, Norway, and 141% more than the average OECD country, even though our life expectancy is about a year and a half below the OECD average.