In the last 60 years, government transfer payments -- such as Social Security and unemployment insurance -- have quadrupled as a share of personal income. Today nearly one of every five dollars comes from Uncle Sam. This figure would be much more dramatic if it considered only the bottom half of earners, taking into account tax credits, Medicaid, and other programs that offset spending or boost income for least fortunate.
Catherine Rampell calls it the "dependence economy." I find it rather extraordinary that wages account for only half of personal income.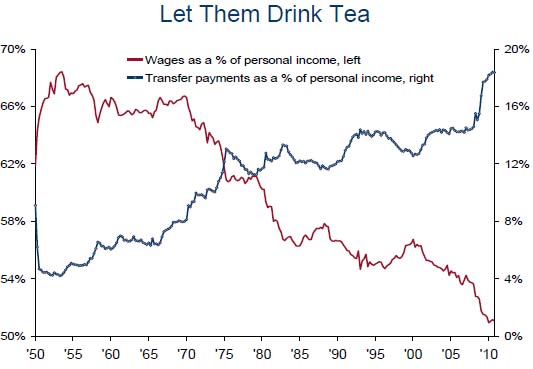 Source: Bureau of Economic Analysis, Credit Suisse
Read the full story at Economix.

We want to hear what you think about this article. Submit a letter to the editor or write to letters@theatlantic.com.
Derek Thompson
is a staff writer at
The Atlantic,
where he writes about economics, technology, and the media. He is the author of
Hit Makers
and the host of the podcast
Crazy/Genius
.