Chart of the Day: How Much Americans Save vs Spend
We know they don't save much, but for every dollar they spend, how much do they save?
Americans love to spend money. In their consumer driven culture, spending is responsible for about 70% of U.S. GDP. Unfortunately, Americans' passion for spending far outweighs their desire to save. This probably isn't news to anyone -- some Americans even run credit card balances and save nothing, meaning that they effectively have negative savings. But how much do Americans save compared to the amount they spend?
Yesterday, we learned that personal income in the U.S. grew in March, though mostly due to inflation and government handouts. Spending rose and savings grew a little bit as well. We can use historical data provided by the Bureau of Economic Analysis to calculate the historical ratio of personal saving to personal consumption spending: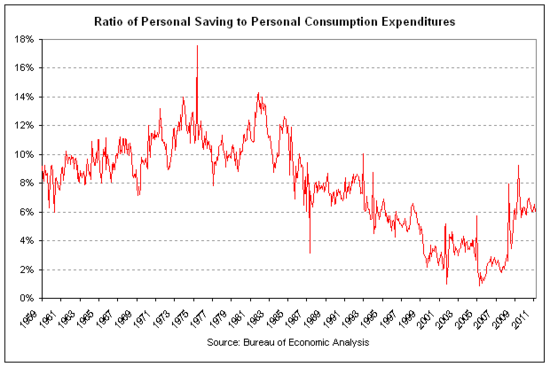 This chart won't shock anyone who follows saving patterns in the U.S. In March, Americans saved about 6 cents for every dollar they spent. The ratio peaked during the recession at 9.2% in May 2009, but it was very low during the housing bubble, dropping to just 0.9% in April 2005. In other words, they didn't even save a penny that month for every dollar they spent.
Since 1959, the highest this ratio has ever been was in May 1975 when it briefly peaked at 17.6%. That's a pretty high rate of savings, but prior to the mid-1980s, the ratio was generally above 8%. Only since then have Americans been saving even less of their money compared to the amount they spend.