U.S. Exports Hit New Record in January
Today's report on U.S. trade provides some good news and some bad news. Exports rose by $4.4 billion in January to $167.7 billion -- the highest monthly tally in U.S. history. Unfortunately, imports rose by even more. They were up $10.5 billion to $214.1 billion, according to the Bureau of Economic Analysis. That increased the trade gap by $6.1 billion, bringing it up to $46.3 billion. Let's dig into the numbers.
First, here's the chart: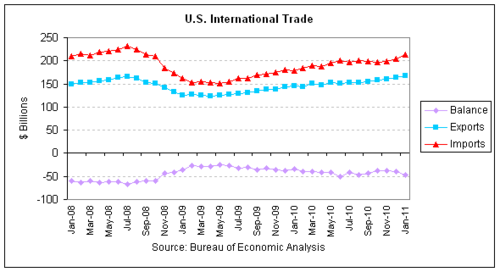 You can sort of see from this that exports just surpassed the previous high point of $165.7 billion, set in July 2008. But you can also see that the gap between imports and exports grew in January, with the deficit ticking down further, to the widest point since last June.
January's change was almost entirely goods driven, as services played little role. Within goods, Industrial supplies provided the biggest contribution to the monthly change. Here are a few highlights:

As you can see, oil and other energy products are pretty big drivers on both sides of the equation. Overall, petroleum products boosted imports $1.2 billion more than exports. So oil played a part in the grade gap widening, but only accounts for about 20% of the change.
It should be noted that the numbers above are seasonally adjusted, but are not adjusted for inflation. The BEA's report only includes data for inflation-adjusted numbers back to 2009, so there is not enough information provided to determine if January's exports were a new high if you take inflation into account. Since trade includes both consumer products and producer products, creating an independent inflation calculation adjustment is difficult.
Overall, today's news indicates mostly more of the same. As we've seen over the past several months, exports are continuing to grow, but not as quickly as imports. While additional exports should help to create jobs, if Americans were buying more domestic products instead of those from abroad, then the impact of their spending on jobs would be even greater.