Unemployment Rate Ticks Below 9% in February
After a strange unemployment report in January, the news for February makes a little more sense. The U.S. economy added 192,000 jobs, as unemployment ticked down to 8.9%, according to the Bureau of Labor Statistics. This rate matches that in April 2009 and is the lowest since. This month, there aren't any strange data discrepancies, so the report provides a cohesive picture of the labor market's slow, but slightly accelerating, recovery.
First, here's how the unemployment rate has changed over the past two years: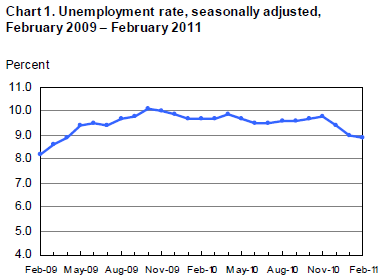 And here are the numbers of jobs added to or lost from the economy each month: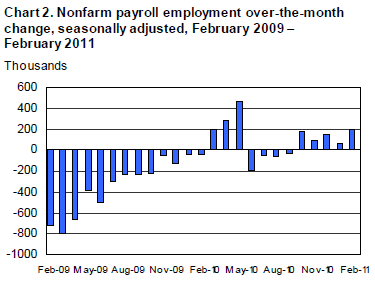 It should be noted that today's report revised upwards the number of jobs for both December and January to 152,000 from 121,000 and to 63,000 from 36,000, respectively. Obviously, it's good news that there were actually 58,000 more jobs created during these two months combined than we thought.
Those 192,000 net new jobs in February according to BLS's Establishment survey aren't far off the 250,000 estimated by its Household survey. There was a major discrepancy last month: these surveys estimated 36,000 and 589,000 jobs created, respectively. It's nice to see these two surveys' statistics a little closer together in February, as it provides better credibility to the numbers we're seeing.
Private sector jobs did much better than government jobs in February. Firms added 222,000, while state and local jobs declined by 30,000. Federal jobs were unchanged. Here's the chart for the private sector's progress since 2010: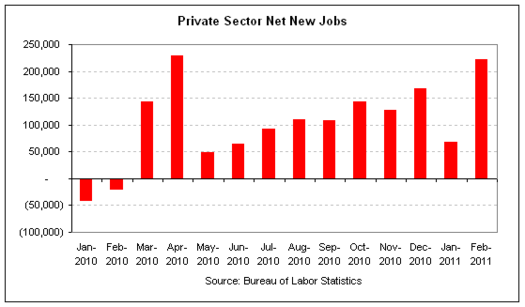 You can see the relatively strong private sector performance in February compared to the past year. The only month that was better was last April, which beat last month very slightly with 229,000 jobs created. Unfortunately, as state and local governments struggle with their budgets and lay off employees, this brings down the net number of jobs added to the economy. Still, it's a very positive sign for the recovery to see businesses more aggressively hiring workers.
Here's how some specific sectors performed: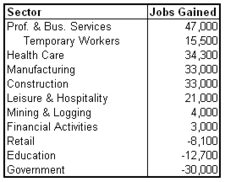 The big winner was professional and business services, which was due in part to a pop in temporary workers. Health care continued to exhibit strength. Manufacturing has also been doing relatively well over the past several months. But the real surprise was construction. It added 33,000 jobs, which was the most since March 2007. It's hard to imagine the sector is really recovering, since real estate continues to struggle, however.
Although the unemployment rate has declined significantly since November, from 9.8% to 8.9%, this doesn't take into account broader measures of joblessness. Since November, the number of discouraged or otherwise marginally attached workers had grown by 269,000 through January. But this number declined by 70,000 in February, which is also good news. Here's the chart: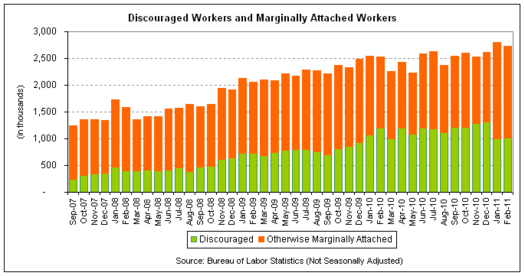 Similarly, U-6 -- the very broadest measure of unemployment, which includes marginally attached workers and those forced to work part-time -- ticked down to 15.9% in February. That's the lowest U-6 has been since April 2009. This appears to indicate that the declining unemployment rate is not due simply to workers leaving the workforce.
In summary, it's pretty hard to find much negative news from this unemployment report. All of the statistics seem to indicate the same thing: jobs are growing at a modest rate. While we might like to see the economy adding jobs a little more quickly, it's hard to complain too loudly about what appears to be the best unemployment report since April.

We could still see the unemployment rate tick back up once some of the millions of Americans who have left the workforce re-enter. But if the job growth continues to accelerate, then we will continue to see slow progress at whittling down the number of unemployed Americans. Let's just hope that rising oil prices, arguably the biggest threat to the recovery at this time, don't get in the way.