The Future of Microfinance: Savings and Insurance
The world's poor need more than credit. They need real savings and insurance options, too. How can microfinance help?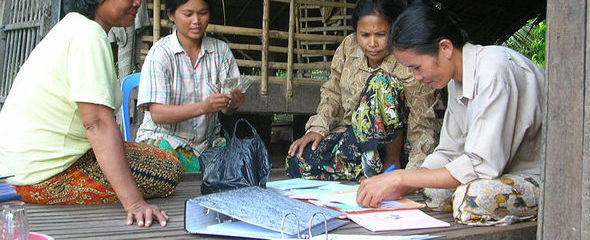 Making a living off $2 a day is hard. Making a business off $2 savings accounts might be even harder. But that's exactly what some banks are trying to accomplish as they seek to expand microfinance to include savings and insurance.
People living on less than $2 a day are active money managers who juggle shopkeeper credit, wage advances, private savings, and other informal instruments on a monthly basis, according to the book Portfolios of the Poor. But whereas more and more $2-dollar-a-day families have access to credit, very few have access to formal savings or insurance.

That's where microsavings come in. Last November, the Bill & Melinda Gates Foundation pledged $500 million over five years to increase access to savings worldwide.In a phone conversation, Bob Christen, Director of the foundation's Financial Services for the Poor group, said this kind of help is absolutely necessary, because the world¹s poorest communities want to save, but have few secure ways of doing so.
For microsavings to work, they have to drastically cut banking costs. Low-income clients will typically have account balances under $80 and make frequent deposits under $5. No standard bank with branches and tellers could afford to maintain such accounts because the cost of each transaction is near $1. But Christen believes "there's a historic opportunity to reduce transaction costs through agent banking," where local petty shop owners double as deputized bank tellers while using mobile money and point-of-sale devices to transact cash, confirm identities, and keep books up to date. He predicts that transaction costs could go as low as 15 cents with this model.
 
As such platforms expand in scale while lowering costs, Christen envisions a rich ecology of private firms, government infrastructure, and non-profit organizations delivering new financial services to ever more remote regions. Christen has a quarter of a century of experience with microcredit behind him, but it's only recently that he's considered efficient microsavings possible. He focused on the challenge of lowering transaction costs.
Another class of services gaining momentum is microinsurance. Women routinely save 10-15% of their monthly income for health emergencies that can wipe out savings, said Mary Ellen Iskenderian, President and CEO of Women's World Banking, a network of worldwide microfinance institutions. Her firm is starting a microinsurance trial in Jordan where a premium equal to one day's wage per month - or 3% of income - provides health insurance that pays out for every night the client spends in a hospital, including stays associated with childbirth. According to Iskenderian, the insurance provides a sense of security to women who then feel less need to stash away cash, and in turn are able to apply income towards other expenses like education. Compared with credit as a way to handle emergencies, Iskenderian says, "microinsurance is a more efficient use of capital."
THE SOCIAL ROLE OF MICROFINANCE
Christen and Iskenderian both highlight efficiency in microfinancing-- whether it's lowering transaction costs, making small accounts worthwhile, using capital more efficiently, or permitting services to be extended farther and wider.
But there are two brands of efficiency, and only one is healthy. One brand eliminates corruption, waste, and silly ways of doing things that cost more and achieve less. The second brand - let's call it "faux-efficiency" - focuses solely on hard metrics and judges anything not easily measurable to be waste that should be cut. There's a slippery slope that connects the two, and for many who believe in corporate efficiency, there is no distinction. Yet, they are worlds apart.
For example, Grameen Bank in Bangladesh has over 25,000 employees and 7 million borrowers. It has avoided faux-efficiency by continuing to provide a set of services for its clients that go well beyond loans, as noted in an earlier post. Indeed, much of the success of microfinance programs comes from other services like training and hands-on direction from a loan officer. I recall an energetic firebrand I once met in Jhansi, India, who credited her self-confidence and leadership skills to active support from a local non-profit that doubled as a microfinance institution.
One concern as microfinance becomes more commercialized and increasingly concerned with large-scale impact, is that anything not strictly financial will be cut in the name of "efficiency." Profit-minded shareholders will see training for entrepreneurs, lectures on the value of children's education, or even the extra five minutes a caring loan officer might spend with a client as a cost rather than an investment.
Few people talk about microfinance as a way to nurture human beings -- and not just cash flows. CGAP, the World Bank organization that studies microfinance, issued a document in 2004 called the "Key Principles of Microfinance," which was widely circulated and endorsed by the G8. Number ten on a list of eleven principles is, "The lack of institutional and human capacity is the key constraint," but the text that follows only mentions the capacity of institutions to disburse services (more efficiency!), not the capacity of clients as entrepreneurs or more capable individuals.

In Silicon Valley, there is tacit acknowledgement that when someone takes on funds to build a business, the personal growth of the entrepreneur is a critical factor that might outlast the business. Venture capitalists rarely view their investments as purely financial transactions; they provide mentorship and guidance. Similarly, it's personal growth that employers and investors look for, which is why even a failed start-up is a badge of pride. And, it's personal growth that contributes to the Bay Area's broader culture of entrepreneurship.
Could microsavings and microinsurance have similar beneficial effects by nurturing future-oriented behavior in clients? It takes greater self-control to plan and save for the future than it does to react to an emergency, and self-control has value in life well beyond money management.Self-help groups that form the foundation of collateral-free lending in India could have immense societal value as self-mobilizing community organizations.
It is said that you can't manage what you can't measure. Some interpret this to mean you shouldn't set goals that can't be measured. The wiser interpretation is that you should first identify your goals and second strive to measure them. What really matters in microfinance -- and much of international development -- is not just the ability of impoverished clients to consume a product provided to them on a platter, but to grow from the experience so that even if the service were suddenly to vanish, they would emerge stronger people who are better able to take care of themselves.
>