Retail Sales Soared in February
If Americans were talking with their wallets in February, they were saying that their comfort with the economy is improving. During the month, retail sales and food services rose by $3.7 billion, or 1.0%, according to the Census Bureau. This marks the eighth straight month that retail sales have grown. At a seasonally adjusted total of $387.1 billion, the month's spending also set another new high. While rising food and gasoline prices helped boost this number, even if you take them out of the equation, sales still rose by 0.9%. It's pretty clear that Americans aren't shy about spending anymore.
First, here's the historical chart, to provide some perspective of how far consumers have come since the deepest depths of the recession: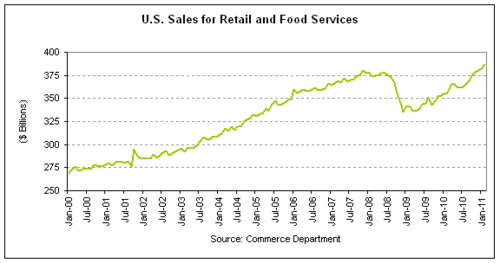 Since December 2008, total monthly sales have risen by $51.5 billion -- an increase of 15.4%.
The rate at which retail sales and food services grew was also relatively high in February. The $3.7 billion increase was the biggest since October.
Perhaps what's most surprising about this increase is that gasoline prices began rising quite steeply in February. Oil doesn't appear to be affecting spending much yet, however. Here's the chart for spending if you take out gas stations, food and beverage stores, and food services and drinking places: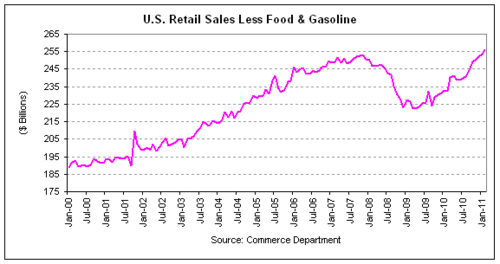 In February, this measure of sales was still up 0.9%, and another new high was hit here as well. So any argument that sales are increasing by necessity due to rising oil and food prices doesn't hold water. Here's how the major components of sales changed from month-to-month: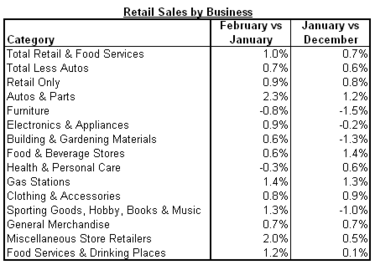 One sector that jumps out is autos, with a 2.3% increase. This confirms what we learned earlier this month, when auto companies reported strong February sales. You can also see that spending at gasoline stations was up 1.4%. So the higher oil prices are being felt somewhat, but they don't appear to be dampening spending on other goods and services.
In fact, only two categories above saw a decline in February. Health care had a small 0.3% drop, which is probably just a blip. But furniture sales continue to fall, down 0.8% after a 1.5% decline in January. When people aren't buying many houses, they also don't need as much new furniture. So while housing sales remain low, we can expect furniture sales to continue to suffer.
Although oil prices rose significantly in February, they don't appear to be impacting consumer spending yet. But that could change if they continue to rise. At some point, Americans could begin to feel a pinch on their budgets as the price at the pump grows. If prices do hit, and soar past, $4 per gallon, then you'll likely see other spending decline, due to more money needing to be spent on gasoline and general nervousness of the effect rising oil prices may have on the economy. But at February's gas prices, the recovery still appears to be moving forward at a modest pace.