Pending Home Sales Rose Slightly in February
After a two-month decline, the National Association of Realtors Pending Home Sales Index increased in February by 2.1%. That's not much of an uptick. The forward-looking measure appears to indicate that a strong housing recovery remains distant.
Here's some history of pending home sales: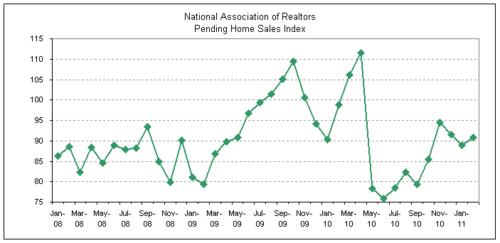 You can see that February's increase to 90.8 leaves the index below its November value of 94.5. Although this is slightly above where the index was for most of 2008, it's below the significantly higher values reached in 2009 and the first half of 2010, due to the influence of the home buyer credit. Since the credit's expiration, the index has rebounded from very low levels. It continues to suggest relatively weak pending sales, however.
Pending home sales indicate contracts signed during the month. So they don't line up precisely with actual sales, as some fall through before closing. About the index, Lawrence Yun, NAR's chief economist says:
Month-to-month movements can be instructive, but in this uneven recovery it's important to look at the longer term performance. Pending home sales have trended up very nicely since bottoming out last June, even with periodic monthly declines. Contract activity is now 20 percent above the low point immediately following expiration of the home buyer tax credit.
This is a nice optimistic take, but the spike in November now looks like more of an outlier than a new, stable level. And if the NAR is using the lows just after the home buyer credit expiration as a relative estimate, then it's hard to imagine anything worse than a weak recovery resulting. At that time, sales dove to levels that were the lowest in at least 20 years.
Home sales are better than they were last summer, but they've got a long way to go before they reach numbers more conducive to prices stabilizing. Foreclosures and other distressed property actions continue to occur in high numbers. If sales remain at very low levels, then it will be difficult to work through all of the inventory that's hitting the market.
>